The Cherry MX Clear keycaps and Cherry MX Clear switches are a perfect combination for any gamer or typist looking for an amazing typing experience and aesthetic.
Cherry MX Clear keycaps are some of the most unique keycaps currently on the market. These keycaps are the usual Cherry MX quality but what makes them unique is that they're completely see-through. You can find tons of benefits acquired from using the Cherry MX Clear keycaps. We will explain all of them in detail below.
Alongside the clear keycaps, one of the most popular silent switches are the Cherry MX Clear switches. They provide unrivaled precision and tactile feedback. This paired with unique construction and durability make them one of the best switches out there for a mechanical keyboard.
Tons of keyboards come with built-in Cherry MX Clear switches and we will list some of them below as well.
---
What makes Cherry MX Clear keycaps and switches special?
You have definitely heard of the legendary Cherry MX switches and keycaps since you are here. The switches and keycaps consist of unique materials and technology. The switches consist of trademarked features which makes them extremely durable and reliable. This allows for reliable and accurate performance.
Cherry MX Switch categories
The Cherry MX mechanical switches come in three different categories.
You can choose between linear switches and either non-clicky tactile switches or clicky tactile switches.
All different types of switches come in different colors according to their features. You can find 13 different switches from Cherry MX with different weights and actuation distances.
Older different variations exist as well but they're no longer sold in consumer mechanical keyboards.
The most common linear variants are Cherry MX Black and Red switches. The Cherry MX Clear and Brown switches are most popular from the tactile variants.
Special contact points and structure of the switches
Cherry MX Switches uses special gold crosspoint contacts to actuate a key-press. A gold crosspoint consists of two gold plated strips of alloy in a cross formation.
This allows for very little grinding at the contact point alongside low contact resistance and very short bounce times.
This mechanism allows a movable leaf to fold on itself at the top of the switch allowing for contact.
The clicky switches have a special two-piece slider setup. This makes the clicking sound when the actuation point is reached and the spring pushes one of the pieces downwards.
Unique custom designed keycaps
All of the Cherry MX keycaps are specially designed with the end user in mind. They're made from the most durable materials which is why they can be costly.
The Cherry MX keycaps are especially designed for use with Cherry MX switches which makes them a perfect fit. You can get them in unlimited colors and combinations.
The main type of cap we are focusing on here is the amazing Cherry MX Clear keycap. They look absolutely stunning with RGB back-lit mechanical keyboards.
The company does not manufacture official keycaps to be sold separately, so we listed some sources below.
---
Cherry MX Clear keycaps
One of the lesser known, yet aesthetically beautiful keycaps are the Cherry MX Clear keycaps. Many people are aware of the clear switches, but are not aware there are also fully clear Cherry MX keycaps.
Although you can use them alongside any switches, we highly recommend pairing them up with the Cherry MX Clear switches.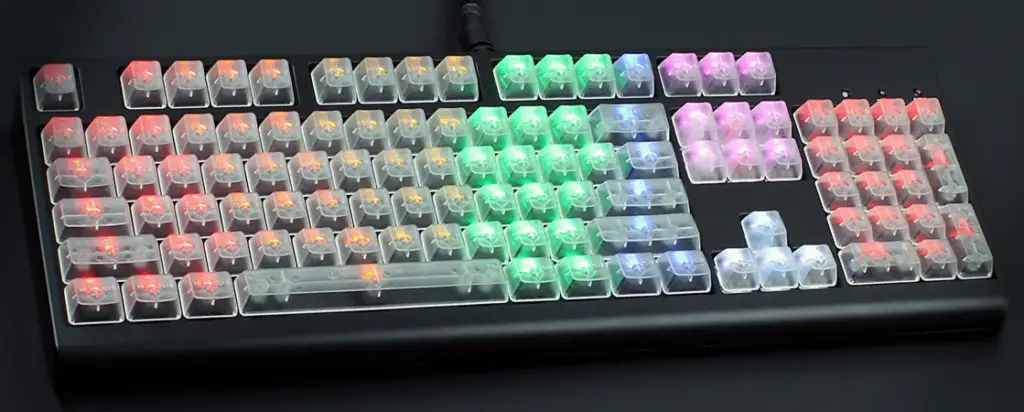 The Cherry MX Clear keycaps are meant to be used with backlit keyboards. Without any light sources, the keycaps have a distinctive clear white color which is cool on its own as well. However with RGB lighting, the keycaps diffuse the light into an amazing glow.
You can find many different manufacturers for the Cherry MX Clear keycaps and they all vary in price slightly. However one of our favorites is the Max Universal Clear Translucent keycap set. It goes for around $45 USD which can be a bit pricey.
If you happen to be on a budget, you can get a full set of Clear keycaps from AliExpress for under 10 dollars. Sure they're nowhere near as high quality, but definitely worth the ridiculously cheap price.
It is worth noting that the Cherry keyboard company does not manufacture separate keycaps. They only sell pre-assembled keyboards and their branded switches.
This means you need to look for your keycaps from other reliable sources such as the ones above. Just ensure the design is optimal Cherry MX switches before buying, as some switches have designs that don't support the same type of mounting.
---
Cherry MX Clear Switches – The perfect middle ground
One of the coolest colors in the Cherry MX lineup is the clear option. It is often overlooked as it is very similar to the more popular MX Brown switch.
The Cherry MX Clear switch belongs to the tactile category as it doesn't have acoustic feedback or a clicking sound. This is optimal for office workers and game streamers, who might not want audible sounds.
The Cherry MX Clear switches have an actuation force of 65 cN or centinewton.
This means it requires slightly more operating force in comparison to the MX Brown switches 55 cN.
Some people often prefer to use the Cherry MX Clear switches alongside the Brown ones. They're very useful for larger keys like the spacebar or enter keys if you don't want them to actuate as easily.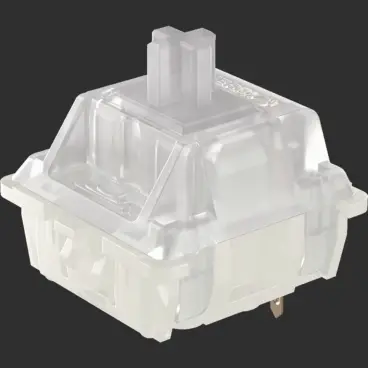 The Cherry MX Clear switches are larger in size in comparison the the linear switches.
The only exception is the Linear Grey switch which is also fairly large. All in all, if you are looking for amazing switches for gaming or typing alongside some cool back-lighting, the Cherry MX Clear switches are a perfect choice for your mechanical keyboard alongside the Cherry MX Clear keycaps.
---
Mechanical keyboards with Cherry MX Clear switches
There are quite a few very popular keyboards that consist of Cherry MX Clear switches. Below you can find some of our favorites. Make sure to read up on some reviews online if you are not quite sure if the keyboard is right for you.
Code Keyboard V3
The CODE keyboard is a very sleek and simple mechanical keyboard utilizing the Cherry MX Clear switches. This keyboard is wildly popular and jam packed full of cool features, despite its compact size.
The CODE keyboard has gone through many variations and the V3 is the leatest and greatest addition to the series.

Some of the cool features include lighting setting memorization, multimedia shortcuts and customizable lock indicator RGB lights.
The CODE keyboard comes with a new Type-C USB cable and has no logo or branding tarnishing the sleek design.
The keyboard also has programmable key mapping and macros utilizing 4 separate customizable layers.
MK Fission
The MK Fission keyboard is also a very popular alternative. What makes the MK Fission so unique is the design.
The keyboard has a large panel surrounding the outer edges containing RGB lighting. The keyboard looks like it is sitting on a cool RGB book of sorts.
The Cherry MX Clear switches come in either white or RGB LEDs, but the original design of this keyboard intends the keys to have a clean white look, alongside the surrounding color strip.
The MK Fission one of the cheapest options coming in at around 115 dollars. The keyboard has many of the other popular functions making it optimal for gaming as well as writing.
The downside is there is no variations without a number pad on the side, which is often unnecessary.
Ducky Shine 4
The Ducky Shine 4 is the newest addition to the popular Ducky lineup. Alongside the Cherry MX Clear switches, this keyboard has a ton of distinguishing features that sets it apart from all the other MX Clear switch keyboards out there.
Obviously the sleek and slim look is a big selling point for this keyboard, but there are tons of hidden features.
The first being the detachable Mini-USB cable and removable keyboard stand, making the Ducky Shine 4 very portable.
The keyboard also has dual color LEDs and constantly upgrading firmware. The keycaps are ABS lasered providing great tactile feedback for all-purpose use.
All these features combined alongside 1000hz polling makes this keyboard one of the best and most popular mechanical keyboards out there.
---
Cherry MX Silent switches – Zero noise, same quality
The Cherry MX lineup consists of three separate categories as detailed above. However, the linear type of switches are the quiet ones with no tactile clicking or actuation sounds.
There are a few Cherry MX Silent switches that make no sound whatsoever. The most popular ones are the Silent Red and Silent Black switches.
These have recently become available worldwide in the previous years due to high demand.
Cherry MX Silent Red Switches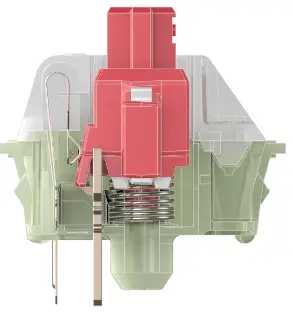 First up is the Cherry MX Silent Red mechanical key switch. They consist of the same high quality components as other MX series switches.
However they contain special materials and patented noise reduction technology to reduce any noise made while typing.
This is done by integrating this technology into one of the two parts of the switch stem.
The Silent Red switches are the based on the normal MX Red switches without the clicking.
They are very light requiring 45 cN of operating force and have a short 3.7 millimeter travel distance.
This makes the Silent Red switch optimal for an office environment and other writing activities. For gaming, you might want to look into the Silent Black switches.
Cherry MX Silent Black Switches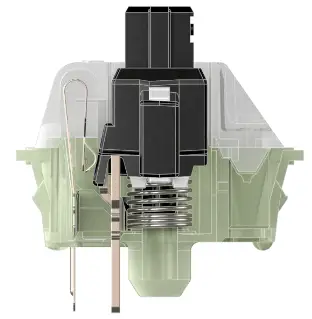 The second option is the Cherry MX Silent Black switch. This switch uses the same patented noise reduction technology as the Silent Reds, meaning the switches make no noise while typing.
In comparison to the Silent Red switch, this one requires a slightly higher operating force of 60 cN. This means you will need to use more force for actuation.
The MX Silent Black switch has become more popular due to the increase in YouTube and streaming popularity.
The higher actuation force is more optimal for gaming, reducing the amount of accidental keypresses in high pressure situation. When making recordings or chatting online, it is crucial not the hear any keyboard feedback through the microphone.
If you don't want a quiet membrane keyboard for this, the MX Silent Black switches are perfect for you.
---
Conclusion
In Summary The Cherry MX Clear Switches and keycaps are a perfect combo for anyone looking for a quality typing experience.
They're premium quality and very aesthetically pleasing. There are tons of different keyboards that come with them built-in as well as cheaper alternatives you can buy overseas.
In addition, if you're looking for even more silent switches, you can choose the Cherry MX Silent series Red or Black switches.
This way nothing will hinder your voice recordings and won't annoy any co-workers or bystanders.