The world of gaming is getting more beautiful but also more competitive by the minute as technology is advancing. Gaming fanatics can always have a hard time deciding where to direct their attention and money when buying equipment. When it comes to gaming, every piece of equipment counts and decides your success in the long run.
---
TV vs Monitor for Gaming – Which one is the Best?
The questions and indecisiveness come into play when deciding what device to view your games on. It isn't just the screen being a factor, but other features matter as well. Regardless of you owning a console or a PC, both TVs and monitors are fully compatible with all platforms.
It is often assumed that monitors are automatically for PC gamers and TV's are for console users. However, with the rapid advancements in technology, this is no longer the case. TV's have become more advanced and they support higher refresh speeds than ever before. Monitors have become larger and more versatile for any kind of use case.
There are tons of differences among them, each with their pros and cons. There is no one-size-fits-all option when it comes to choosing between televisions and monitors for gaming. Therefore, it is always important to do your own due diligence and study what each option brings to the table.
Keep reading this article to find out which platform is the most optimal for your needs and budget.
We also made a guide on buying the best gaming monitor, so make sure to check it out if you think a monitor is better than a TV for your needs.
---
Screen Size
The first and the foremost factor in determining the right option between the two is the size of the screen. The size of a normal gaming monitor usually varies from 22 inches to a hefty 30+ inch monitor. Modern televisions are available on the market with sizes ranging from 24 inches to even up to 70 inches. In some extreme cases they can even go over 100 inches in size, but those are definitely not meant for gaming and will boast horrible input lag.
When it comes to gaming, televisions sized between 30 and 60 inches are usually the preferred option. Larger televisions are best viewed from further away. This means if you sit far away from your screen, you might need a larger TV to see everything clearly.
Large screen sizes on television are also great for co-op gaming, so if you tend to play with friends in the living room, you won't want to be hunched over a small monitor. Alongside these factors, a bigger TV will also give you a more enjoyable experience outside of gaming, with movies and TV-shows.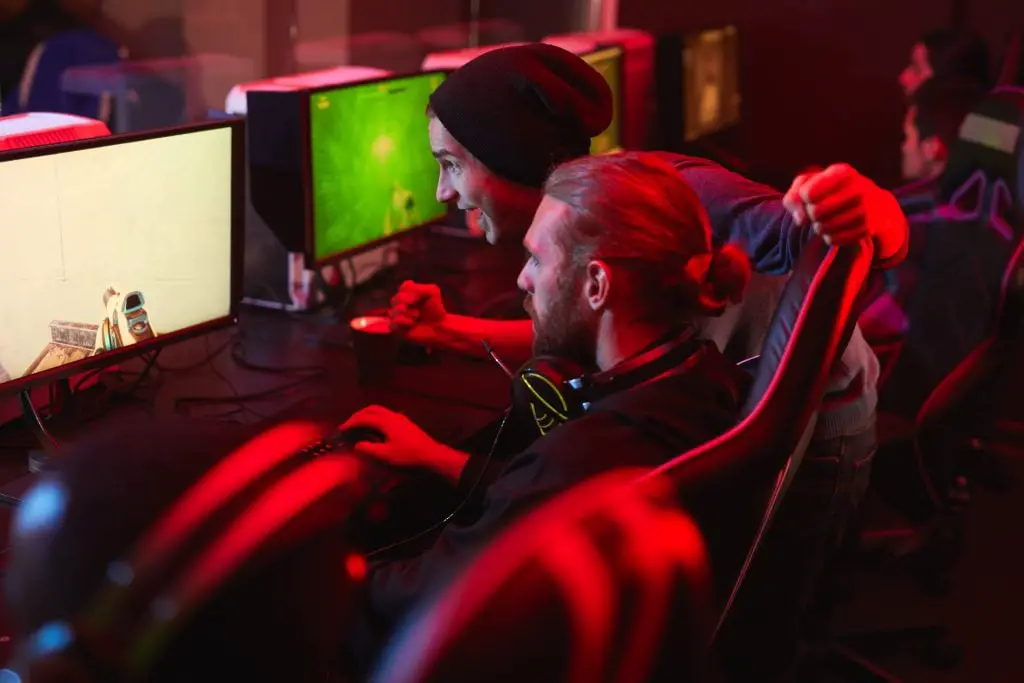 When it comes to monitors and gaming, most professionals go for a 24 inch version. It is the most optimal size when viewed at a desk allowing you to see all sections without moving your head around too much. It also sports a native resolution of 1920×1080 for which most games are perfectly optimized for.
If you are looking to play competitive games on your console or PC, you're going to want to use a smaller screen while also investing in other factors such as refresh rate and resolution.
If instead you're looking for more casual gaming, you might want to look into 30 inch curved models as they transform your gaming experience to a whole new level.
---
Screen Resolution
The resolution of the screen plays a significant role for gamers when it comes to deciding between a TV and a monitor for gaming. The resolution of a screen determines the amount of individual pixels shown on the screen. The more pixels there are to be shown, the sharper the image appears and it becomes more detailed in every aspect.
Nowadays, Monitors are available with a variety of resolutions. Here's a list of the most popular resolutions used by most console and PC operating systems such as Windows. We listed the most optimal gaming monitor sizes here, as the the screen size difference won't be noticeable between larger TV screen sizes.
| | | |
| --- | --- | --- |
| Quality | Approx. Resolution | Best Monitor Size |
| 720p (HD / High Definition) | 1280 x 720 | Mobile/Tablet |
| 1080p (FHD / Full HD) | 1920 x 1080 | 24 inches |
| 1440p (2K / QHD / Quad HD) | 2560 x 1440 | 27 – 31 inches |
| 2160p (4K / UHD / Ultra HD) | 3840 x 2160 | 31 inches and over |
| 4320p (8K) | 7680 x 4320 | Premium 8K TV's |
Gaming monitors usually don't go above 27 inches, as they easily become too big for viewing from a close range. TVs with Full HD support begin at 32 inches. Televisions smaller than that are 720p quality, which is outdated technology according to all modern standards in gaming and otherwise. TVs have the best effectiveness at a certain distance and not up close.
As seen in the chart above, the higher the resolution, the higher your pixel density will be. If you pick a screen size that is too small for the resolution, everything will look way too tiny. However, if you choose a too large of a screen, the pixel density will become low and the image will be blurry up close.
From this we can infer that monitors are always better size-wise when it comes to gaming in front of a desk or at close range. However, TV's beat monitors any day of the week if you're looking for a very large screen to play on.
---
Latency
Another determining factor is the response time or latency on both platforms. Pixel response time is the time a pixel takes to change from one color to another. This can be crucial for a gamer, especially in a competitive scenario. Proper gaming should always involve the smooth movement of the camera and instant notice of an enemy popping up on screen.
A high response will cause significant ghosting and motion blur. Gamers often stick with 1 millisecond delay TN monitors due to the superior speed. IPS monitors have limitations for higher time of response as a result of the technology used.
Televisions stick with IPS panels, and they have a fairly high response time overall. This means a TV's response is way slower, which is why they're never really mentioned when marketing Televisions. In fact, most televisions have over 10ms or higher response times which is a no-go for fast paced gaming.
When you combine this with your controllers input lag alongside the possible delays in your connectors, you might be looking at game breaking issues with latency. This is why it's important to look closely at the response time of your potential TV, if you mean to use it for gaming.
However, if you look for a monitor, you might notice they boast their 1 ms response time and high refresh rates. Larger gaming monitors can have 2 ms or even 3 ms response times. Thankfully this is usually not a noticeable difference to a human eye. The bigger difference comes to play with refresh rates, which are discussed later in the article.
---
Connectors and Inputs / Outputs
Connectors and plug-in options are very different in both monitors and televisions. Most modern monitors consist of HDMI, Display Port and DVI ports, or a mix of two of them. It is important that you read the technical specifications before you purchase your monitor or TV to make sure they support your gaming device.
Most modern televisions rely on HDMI inputs and outputs for video and audio. It is good to note that an HDMI cable transfers both audio and video at the same time. There are different qualities of HDMI cables allowing for different speeds. You will need a Ultra High Speed HDMI Cable with 48.0 Gbit/s of transfer speed if you wish to transmit 4K quality video and audio.
Below you can see my personal TV setup I use for all my console gaming and Netflix. The TV is a LG C8 55″ OLED 4K television with low latency and it's amazing for console gaming. Alongside it have the LG SJ9 5.1.2 Dolby Atmos Soundbar which you can see in front of the TV. It's one of the best affordable Dolby Atmos soundbars from personal experience.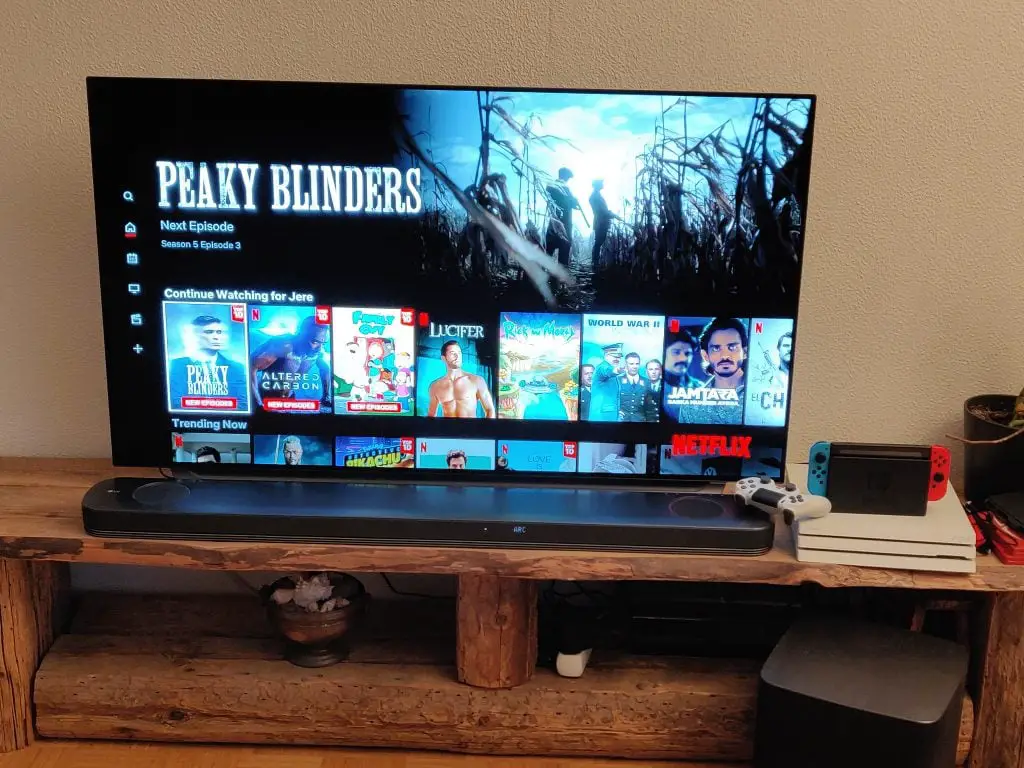 You can find the 2020 version (C9) of this TV on amazon if you're interested.
Most Televisions have a few HDMI ports alongside audio outputs for AUX and optical cables. Most likely you will be connecting your PC or console to the TV using an HDMI cable, then connecting all the other peripherals and audio devices directly to your gaming device.
When it comes to monitors, most of the gaming oriented ones support either Display Port cables or Dual-Link DVI cables alongside the default HDMI slot. This is due to them being able to support higher than 60 Hz refresh rates. A default speed HDMI cable can only support 30Hz and a high speed one supports 60Hz. Only once you get to the high speed HDMI cables, you can reach refresh rates of over 100Hz. A DisplayPort cable can support 240Hz refresh rates straight out of the box.
Most gaming monitors rely on you plugging all audio sources to your PC or machine itself. This is why the output options in a monitor are a lot more limited. This also means if you have a lot of devices you need to plugin, you might need to look into a TV or an external hub to handle your inputs.
If you are looking for higher refresh rates, look towards using a Display Port cable alongside a monitor instead of a TV.
---
Refresh Rate
The refresh rate is one of the most fought about aspects of gaming in general. A monitor for gaming can refresh up to a frequency of 240Hz that enables you to have smooth and fast-paced gaming. However, most televisions can only refresh up to a rate of 60Hz. On the other hand, some models support up to 120Hz, but only at the definition of 1080p.
This is mostly due to the fact that generally TV's are used with gaming consoles, not PC's. Consoles usually only support lower refresh rates, unlike PC's. This means that there's no use for you to pay for a 244 hertz premium monitor if you play on a console that can't take advantage of it.
Below you can see my personal monitor setup I use for all my PC gaming. It is a 32 inch Curved QLED gaming monitor from Samsung. (Odyssey C32HG70). Aside from it's large size, it still boasts an impressive 144Hz refresh rate and a 1ms response time. I've been using it for a few years and I can say it's absolutely awesome and gone above and beyond for any gaming needs.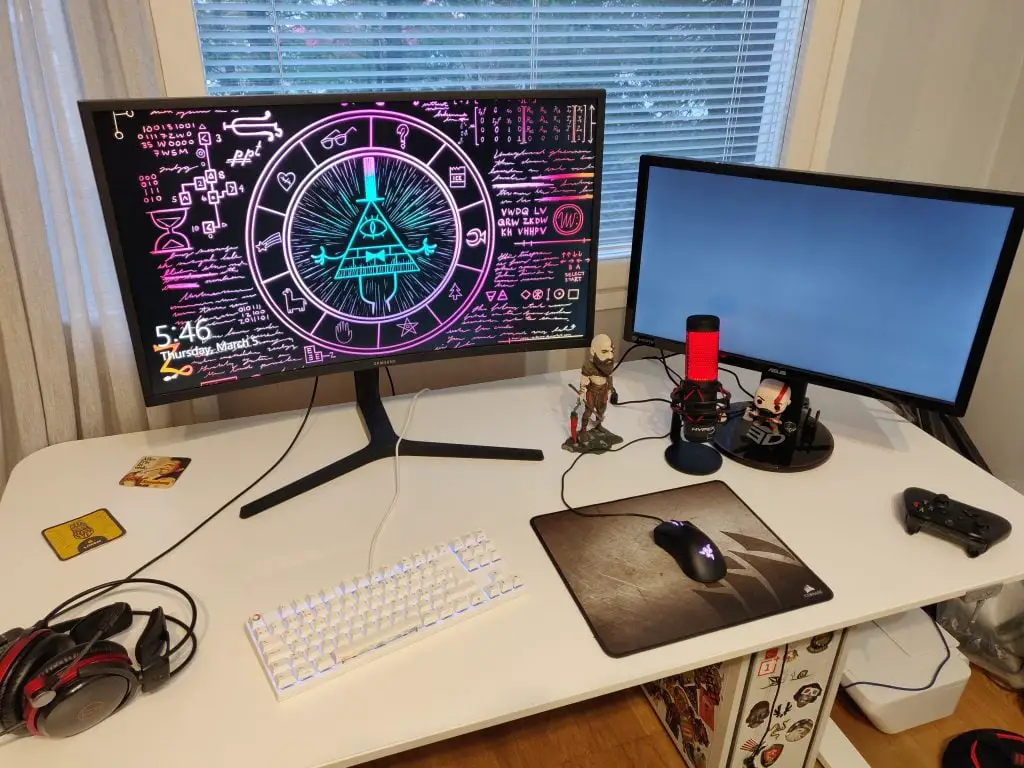 You can also find this monitor on amazon if you're looking for an epic curved gaming monitor with all the goodies including AMD FreeSync.
There are TVs that offer features like LG TruMotion that can convert 60 FPS into 120 FPS. But these rates use frame blending technology and will reduce your gameplay quality and experience. TruMotion technology often produces a lot of ghosting in fast paced games and movies. It is always advisable to get a real 120Hz TV and abstain from the use of motion interpolation at all costs.
The actual difference between refresh rates is definitely huge. Most monitors support only 60Hz refresh rates, so when jumping to a 120Hz gaming monitor, the difference is huge. The image smoothness doubles and you won't be able to go back to the old ways. If you're doing competitive gaming on a PC environment in games like Counter Strike, you might even want to opt for 144Hz or higher refresh rates. This is because every frame counts in a reaction based environment.
---
Adaptive Syncing
Specific monitors provide adaptive-syncing technology in the likes of AMD FreeSync as well as Nvidia G-Sync. However, it requires a compatible graphic card, which will enable you to play with a refresh rates in a dynamic manner. It eradicates the stuttering as well as screen tearing issues.
Gaming consoles such as Xbox One, Xbox One S, and Xbox One X all support the use of AMD FreeSync. Both Xbox One S and Xbox One X are consoles that support refresh rates of up to 120Hz. A gaming monitor with over 120Hz and FreeSync support is the optimal choice if engaging in both console and PC gaming. It is also essential to understand that there will be televisions in the future that support AMD FreeSync as well.
The upcoming next generation consoles like the PlayStation 5 and Xbox Scarlett will be taking full advantage of technologies like Nvidia G-Sync which means more monitor and TV manufacturers will also implement these features into their products. This means you should think about the near future before making the final choice on your gaming screen.
---
Price Tag
Both platforms have their advantages and disadvantages accompanied by their unique features. However, a television with all the desired features can come with a massive premium in price. This is mostly due to the greater size and high production costs to implement TV connection capabilities. TV's also have a much higher demand so they can ask a higher markup, since a lot more people buy TV's than gaming monitors.
Both TVs and monitors come with their high-end and low end options. However, with the price of a mediocre but large television, you can purchase an extremely high-end monitor of a smaller size. This is also why a monitor is a great option if your budget is not in the thousands.
However, if big size is a key factor for you, a TV is definitely cheaper if thinking about dollar per inch costs. This means you can get a much larger, but less powerful Television for the same price as a small but powerful monitor.
---
TV vs Monitor for Gaming – Verdict
Based on the overall comparison, we highly recommend a monitor as the clear choice over a television for gaming. They are far more responsive than televisions and possess a high refresh rate alongside a low input lag.
Gamers who can compromise potential aliasing as well as deal with some input lag, while getting a larger screen, then a TV is the better choice. Televisions can be extremely helpful for gamers with a preference for a larger screen. Both platforms have their own benefits and shortcomings.
However, in the end, the choice mostly depends on the preference and convenience of the gamer. And as many people already do, there's nothing stopping you from getting both 😉