Valve came up with an amazing feature allowing users to share their games on Steam. The feature is called Steam Family Share and it came out of beta a few years ago.
However this cool feature has been largely forgotten among Steam users and can be a little confusing. We will do our best to explain what it is, how to use it and shed some light on all the hazy details.
Get ready to share you epic Steam game library with your friends.
---
Steam Family share is an amazing feature developed by Valve to allow users to share their games on Steam with friends or family members. This functionality has been around for a while, but hasn't been talked about much after its release.
The basic idea of Steam Family Share is that you can share your Steam Library with up to 5 friends and a maximum of 10 different devices. This way you can all enjoy the same games without shilling out cash for extra copies.
Each user must have their own Steam accounts which are then linked to the other libraries. Later in this article we will explain how to do that.
Each users Steam Achievements will be tracked separately and game progress will be also separately saved into the Steam Cloud. Steam Inventory items or in-app purchases acquired while playing through another users library will stay in your own account as well. This way you don't need to worry about acquiring loot and having it taken away after you're done.
You need to make sure you only allow access to your library to people you trust, as VAC bans are given out to your account, not just to the people using it.
Any games that you may have bans in, can't be accessed by other users. A newly acquired ban can also get your Steam Family Share privileges revoked.
---
What are the limitations?
The are quite a few things to take into consideration when giving someone access to your Steam library. The biggest limitation is that only one user can be playing a game from a single library at a time.
This means you can't play online multiplayer or co-op games with a friend using the same library. Due to this, you must also be always online in order to use your friends library.
If you own the library and start playing at the same time as your friend, you don't need to worry about not being able to play. Your friend will be given a notice to stop playing the game or purchase it for themselves to continue playing.
Steam games that come with separate keys or account activation like Ubisoft or Origin games, can't be shared through the Steam Family Share feature. Also any region restrictions that apply to the original owners library will remain, if it is shared with someone else.
All in all, there are quite a few limitations to consider, but for a free service such as this, there's really nothing to complain about.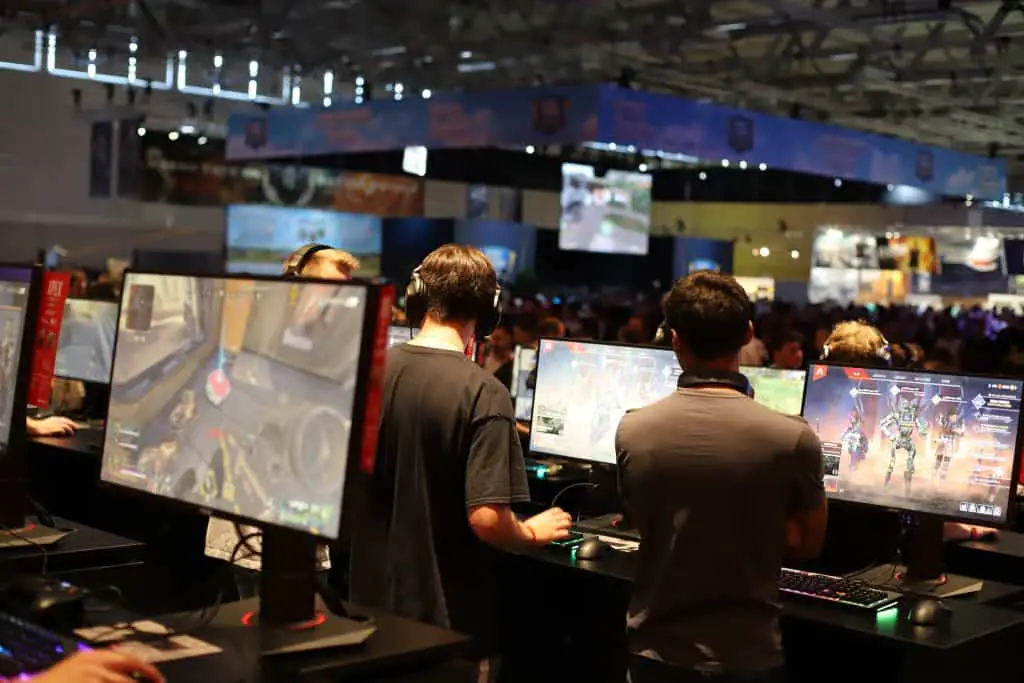 ---
In order to enable Library Sharing and share games on Steam, you must first ensure all accounts have Steam Guard enabled.
This can be activated through Steam > Settings > Account menu within the Steam Client.
The second and also the most complicated step is signing into Steam on your friends computer. Yes, that's correct, you can only authorize devices to access your library that you have signed in on at least once.
You don't need to sign in more than once but the initial setup has to be done with your personal account. For this reason you really need to trust the people you give access to your library, but that should be a given anyway.
Note: If you're using the same PC with the person you're giving access to, you can skip to the last section. This is because your accounts will already show up on the Family sharing list in the Steam settings window.
---
Authorizing a Friends PC
In order to authorize your friends machine to use your steam library, you have two options.
The less desirable one would be to give them your steam login details and Steam guard code to your friend. They can then login on their own and follow the rest of this guide. We don't recommend that, no matter how much you trust that person, but in the end it's up to you. You could change to a temporary password to minimize any risk.
The second option would be to use a remote desktop software, so you can login to their machine on your own. We highly recommend using TeamViewer as it is super easy to use and highly reputable security wise.
Now that you've logged into Steam on your friends PC, open up the Steam client and navigate to Steam > Settings > Family from the top navigation bar.
Once that's done, you can toggle the Share feature on.
---
Once you're in the correct tab and enabled the feature, you can specify which Steam accounts you wish to share your library with.
You should see your friends Steam account in the box below. Just select it and click OK.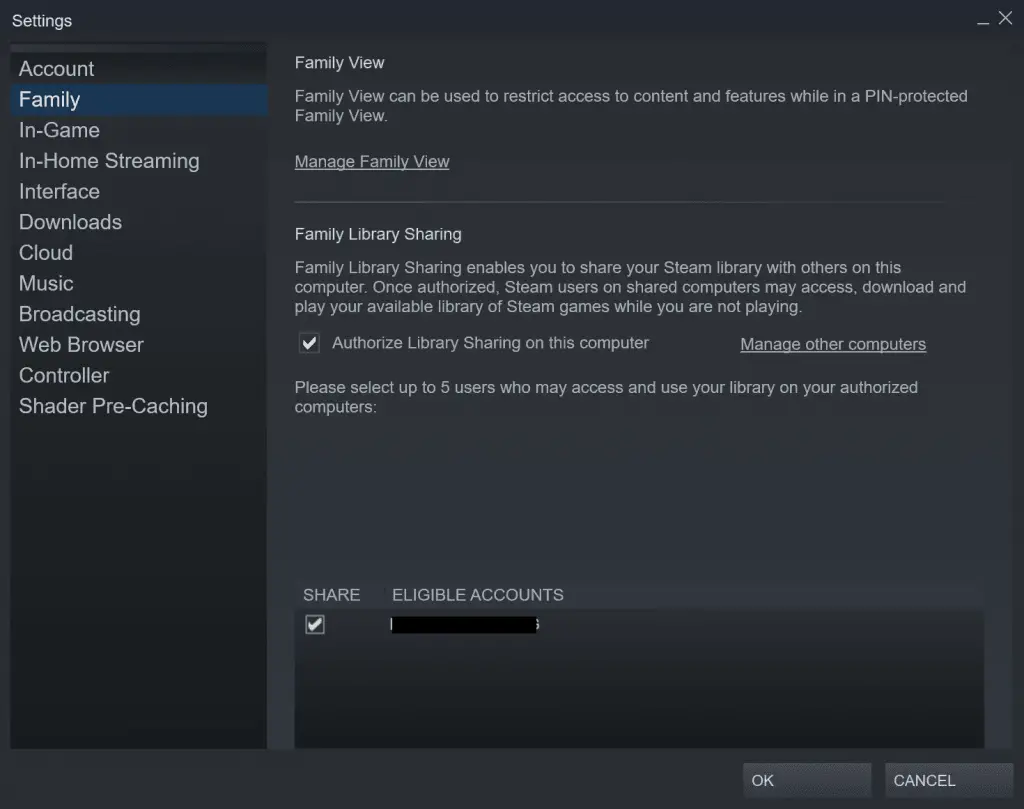 Once you've done that, you should be good to go. When your friend hovers their mouse over the Library tab in their Steam client, they should see your username at the bottom of the menu. Clicking on that will show all the games they can now download and play.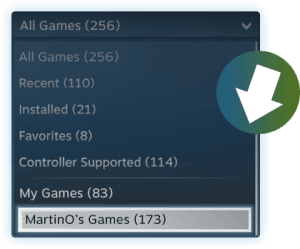 In the recent years game streaming has become more and more popular. People are turning to streamers for their entertainment and the industry is fast trumping television networks.
This advanced streaming has also evolved the Steam game streaming service to a new level. You can now play all your Steam games on the go on a mobile device.
We made an in-depth guide on how to stream games from PC to your phone. Make sure to check it out.