Bass volume is the key to enjoying music, movies and videos at their full potential, yet computers and Windows in general rarely allows you to change anything other than audio volume.
Thankfully it is possible to modify bass levels and bass boost directly from Windows 10, and there are a few useful tools that provide an even wider range of tools.
The fastest and easiest way to get a bass boost on Windows is by simply going to your Sound Devices and additional device properties, them enabling the bass boost enhancement in the enhancements tab.
However, some playback devices don't support Windows Enhancements, which means you will need to try one of the other solutions listed below.
We recommend testing out all the methods to see which one gives you the most optimal results, as you will most likely be using for all listening in the future.
After testing all the tools ourselves, we found that Equalizer APO with the Peace interface as well as FxSound gave us the best sounding results when it came to bass boost on Windows, so if you don't have time to try all of them, make sure to at least test out one of those two options.
UPDATE!
Note that FxSound has recently become completely free while all the great features are still included, with no need for a premium subscription! This makes it an absolute top choice and a must try for everyone! To appreciate their hard work, make sure to leave a donation on their homepage!
NOTE: Tech Tip Vault is NOT affiliated with any of the tools or companies seen in this article and there are no affiliate links on this page. We tested them all ourselves just to find the best option for bass boosting and audio equalization on Windows 10.
You can watch a video version of this article on YouTube if you prefer:
---
Check if your audio device supports Windows Bass Boost
Most playback devices don't support Windows Enhancements, and some support only a few different types of enhancements, not including the bass boost option.
This is usually due to the fact that most playback devices and headphones for PC are not created to support separate bass frequencies.
Audio devices like sound bars with separate subwoofers however usually do support this functionality.
In order to check if your device supports the bass booster, open up the start menu and type in 'Sound settings'.
Then select the output device on which you want to adjust the bass volume on and click 'Device properties'.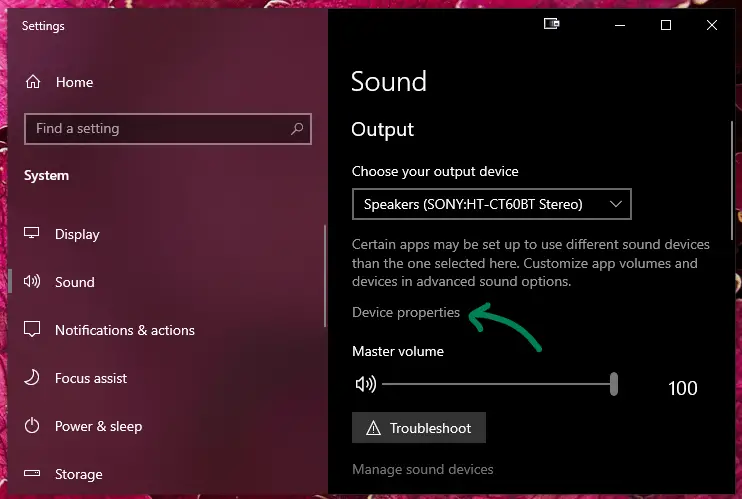 Finally scroll down and open up 'Additional device properties' from the bottom to see all the adjustable settings for your playback device.
If you device supports Windows Enhancements, you should see an Enhancements tab at the top. Open it up and select the Bass Boost option from the list.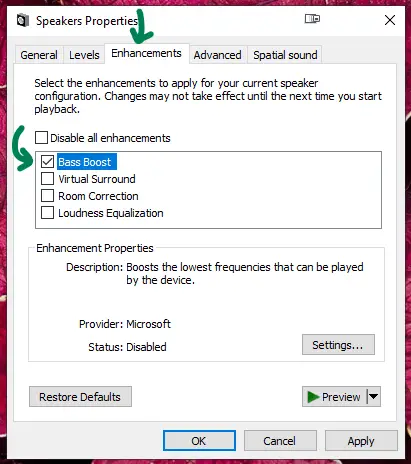 If you don't see the tab or there is no Bass Boost in the list, that means you can't use Windows' own bass adjustment and have to try one of the separate tools listed below.
---
Best bass boost software for Windows
There are tons of different free bass boost programs and equalizer, yet they are all very different and have unique layouts and features.
We picked out a few of our favorites that should get your bass blasting without ruining the audio quality.
You should definitely test out all of them to find your favorite!
---
Equalizer APO (with Peace Interface)
Equalizer APO is probably the best free option for modifying your bass volume and boosting all aspects of your audio experience on Windows 10.
However, Equalizer APO itself is not quite enough to accomplish this, as it reads settings from text-files and is very unintuitive to use without a proper user-interface.
This is where the Peace (Peter's Equalizer APO Configuration Extension) interface comes into play. It basically provides an easy-to-use graphical interface that allows you to edit Equalizer APO settings using simple sliders.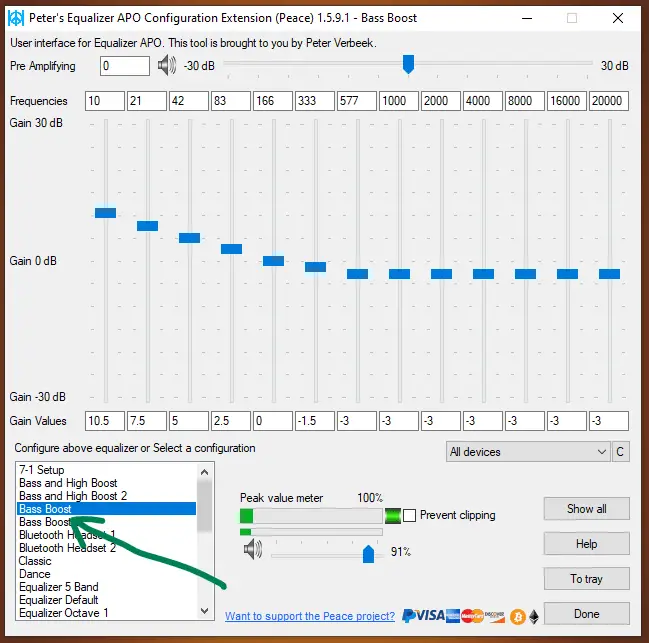 The Peace equalizer comes with tons of premade profiles you can select, including multiple Bass Boost profiles you can simply select from the list to activate.
I tested all of them and the differences in sound profiles are amazing, and you can easily switch between them while listening to music or TV-shows to hear their differences in real-time.
It should be noted that you must install Equalizer APO first, before you can install the Peace extension.
Note that when you install the Equalizer APO, during the installation process you need to select which audio devices to install it for.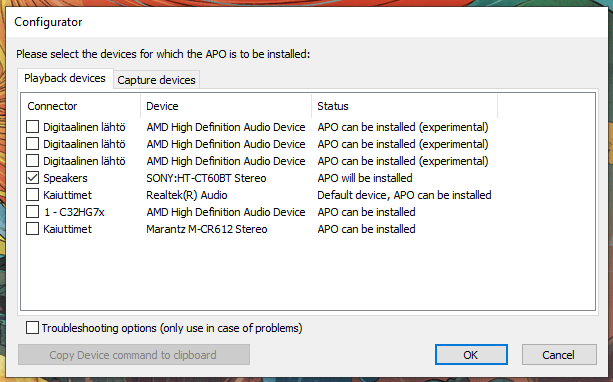 After that, you can simply download and install the Peace equalizer to use it.
Equalizer APO and FxSound definitely provided us with the best sounding results when it came to bass equalizing, so make sure to give both of them a shot to find your favorite.
---
FxSound
FxSound is a recently turned completely free equalizer with a sleek interface and easy-to-use sliders. The software used to have a yearly subscription in order to access premade profiles, but all the features now have been made free, which makes this a fantastic software for all your bass boost needs.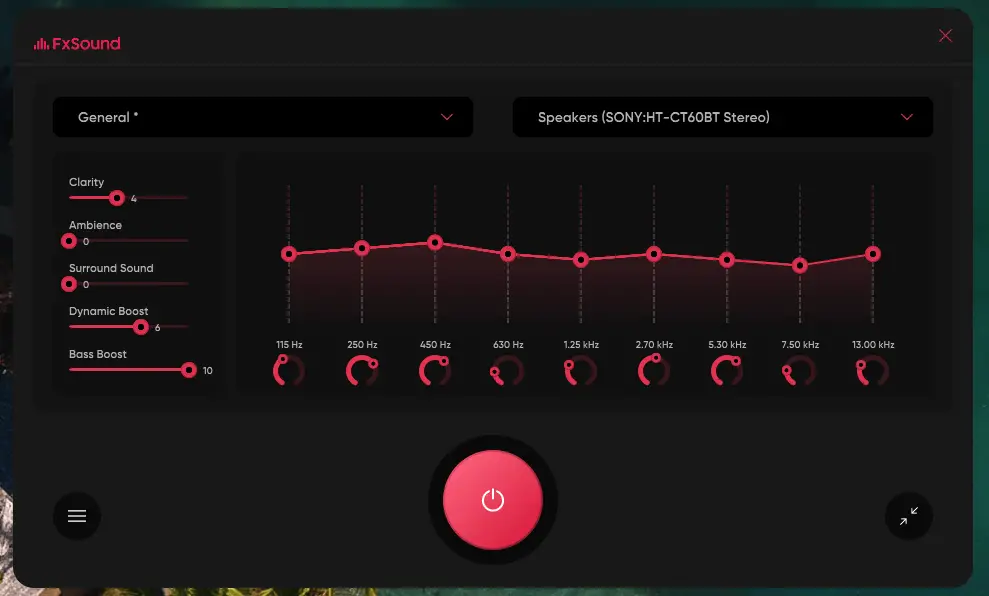 FxSound has a many premade templates, including a bass boost template, which you can easily choose from the preset list. You can also create and save your own custom templates, for any specific movie or song genre with ease.
The user-interface itself is extremely simple to use and you there is an easy output device selection and a on/off toggle so you can easily compare your sound with and without any equalizers.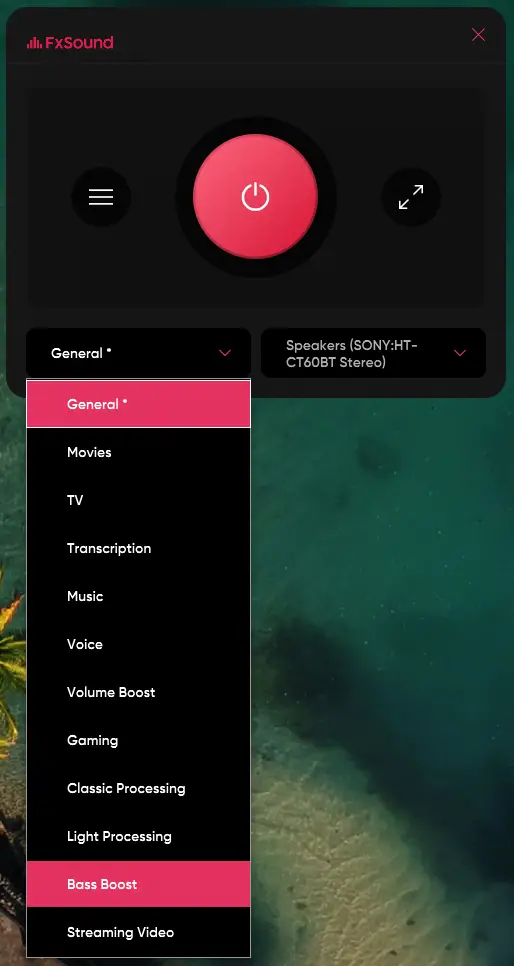 FxSound does a great job with the equalization, and the UI is fantastic, and now that it has been turned into donationware, there's absolutely no reason not to give it a shot and maybe make it your daily driver.
---
Voicemeeter Banana
Voicemeeter is a very well-known equalizer toolset which is highly customizable for your input and output devices.
You can customize several hardware inputs and a virtual input, on which you can modify the equalizer settings. You can also boost bass volume from Voicemeeter by cranking the Bass knob up under the equalizer section.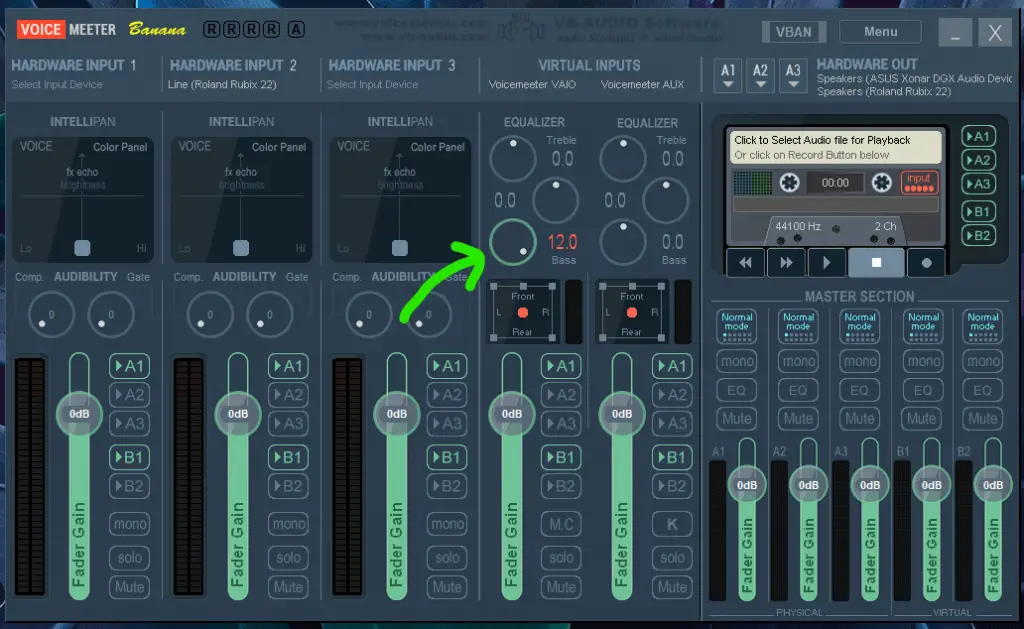 The main issue is that there isn't much versatility in the equalization settings, so what you see is what you get. The user-interface is very packed and is not very newbie friendly.
Thankfully there is extensive documentation on the official VoiceMeeter website. The provided PDF and tutorial videos will help you get started.
VoiceMeeter is completely free and it runs on donations, so if you end up taking a liking to it, make sure the donate to the developers on their website.
---
Boom 3D
Boom 3D is another great choice that allows you to boost your bass levels and it also provides a 3D virtual surround sound for stereo devices.
Boom 3D is another paid program, but it provides a free 30-day trial which only requires an e-mail address to use. The license is a one-time payment of around $10-20 depending on discounts.
The user-interface is quite simple with good sliders and tons of different premade settings to toggle between. You can also set hotkeys for quick switching between your presets when listening to music or watching YouTube.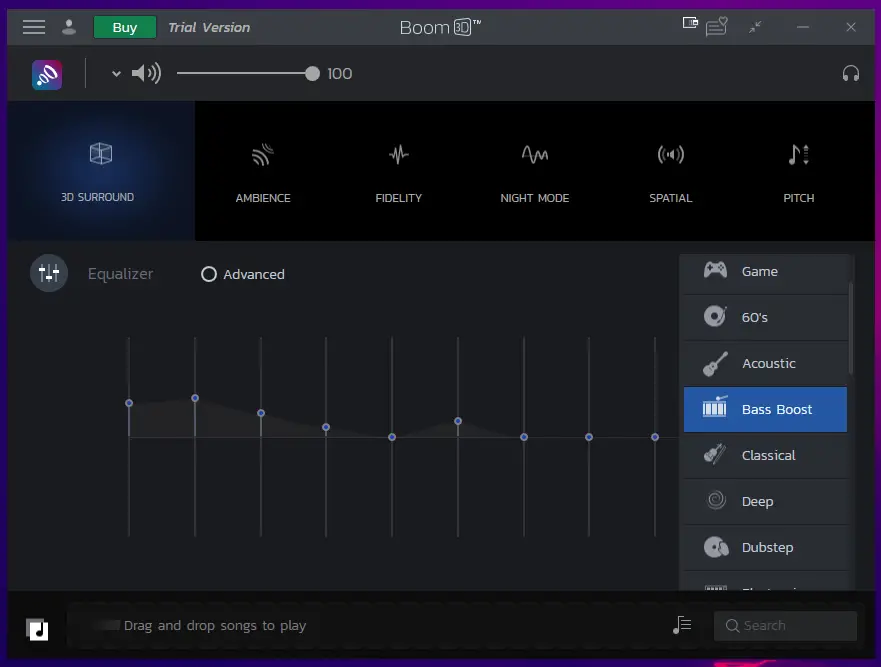 You can select between many different types of optimized output devices like headphones, earphones and speaker systems.
Sadly when it comes to boosting bass levels, I couldn't quite get the sound up to the levels I wanted, but it might depend on the sound bar I used for testing.
We recommend you give this program a try with its free trial, as it's cheap, versatile and has great reviews on Steam.
---
How to Bass Boost YouTube videos
If you are purely looking to blast out tunes on YouTube and don't feel like using any of the beforementioned equalizers, you could download the YouTube videos on your hard drive using our guide, but thankfully there's a quicker, more lightweight solution directly in your web browser.
You can download a free chrome extension called Ears by Vaux Audio to bass boost any individual tabs on your browser. You can also use any chrome extension on the Brave browser.
After you've added the extension to your browser, just click on it in your extensions in the top-right corner to see the equalizer.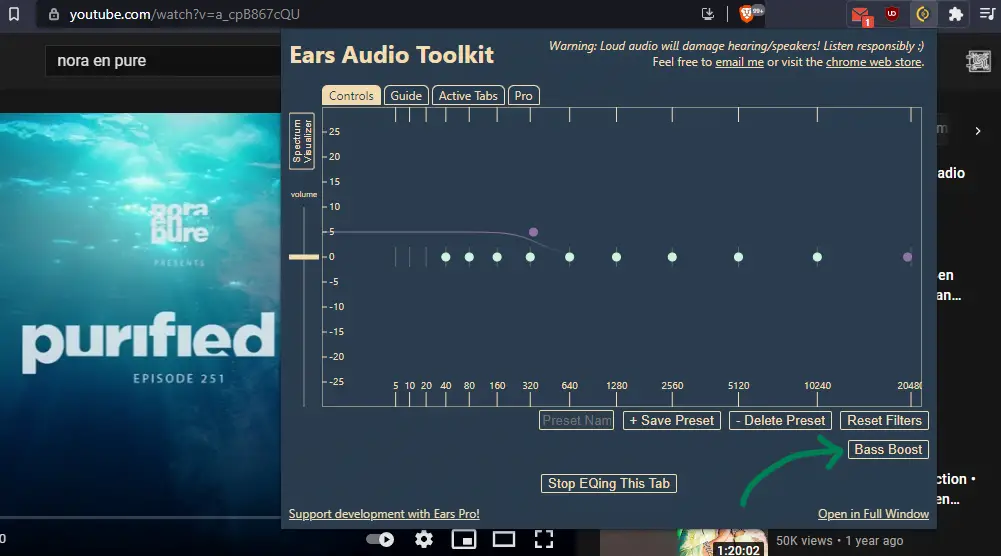 Once you're in the tab you wish to boost, just click on the Bass Boost button in the bottom right corner of the extension pop-up and you will hear the massive difference in bass volume.
To cancel the effect, simply click on the 'Reset Filters' -button or the 'Stop EQing This Tab' -button.
This is a great free extension that can be used on any website including YouTube and Spotify to equalize your audio without affecting other parts of your computer.
---
Bass Boost movies and music with VLC Media Player
The last method you should be aware of if you have a lot of downloaded music or movies and need to customize the sound, VLC media player has a built-in equalizer for that.
The VLC Media Player is one of the most popular media players for Windows and it is completely free and very light-weight.
Since VLC media player can be used to play movies, mp3 files and even online-radios, being able to customize the bass and treble to your liking is a fantastic built-in feature.
To open the audio equalizer on VLC player, just press Ctrl + E.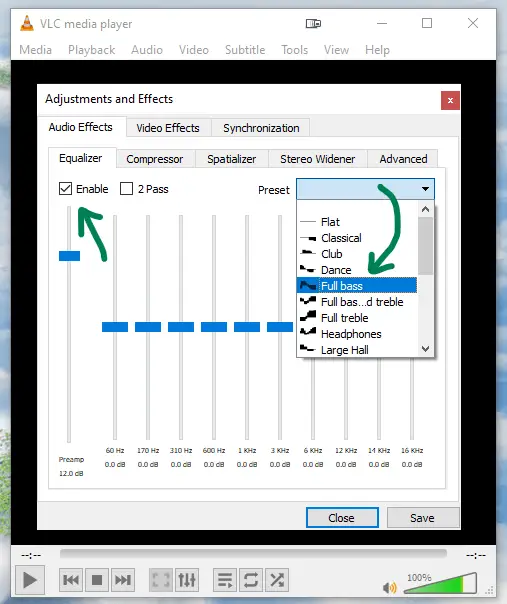 From the Equalizer tab, all you need to do is tick the 'Enable' checkbox and then select the 'Full bass' preset from the dropdown list.
You can browse through the long list of presets or manually customize the values to your liking and hear how the audio changes depending on what you need.
In summary there are tons of free and paid methods to enable bass boost on Windows 10, no matter what kind of audio device you have.
However, Equalizer APO with the nifty Peace interface is arguably the best free tool for this purpose and if you want more convenience and a more modern user-interface, we recommend going with FxSound.