Everyone watches YouTube and most of us on a daily basis. Sometimes you find that epic video or amazing song that you really need to save or put in your phone. In order to download YouTube videos for free, you do need a separate tool to accomplish that. Thankfully, there are countless ways to accomplish that task and most of them completely free of charge.
After Google acquired YouTube, their next step was to implement YouTube Premium, which allows you to pay a monthly premium in order to view videos while minimized. We happened to find a great app to do that with completely free.
You can find our article about how to view YouTube videos minimized and without ads for free here. The only problem with that method is that you need to have an android device to be able to install the app.
---
Here's a quick list of all the services and tools mentioned in this guide in case you don't feel like reading through all of it. Just click on any of the names below to be taken to a quick review and the download links.
---
Desktop software vs Online converters
The first fork in the road is deciding whether to go for a standalone desktop app or a separate web service. Apps running on a web server are often more limited in their options, as all the conversions and processing are done online on the respective company's servers. This makes it costly to run multiple simultaneous conversions, especially for high quality videos.
---
Web-based online converters
When it comes to web-based applications, the best part is you don't need to download and install any separate software. Online converters allow for fast downloading of YouTube videos completely free with only a simple paste of a URL.
When it comes to downloading simple songs and MP3 versions of videos, online YouTube video converters are a lot more popular in comparison to standalone software. They are also a lot easier to try out as they require no effort to give them a whirl.
Pricing wise, online converters are often the cheaper alternative, as they usually contain ads that pay for the operation.
---
Downloadable desktop software
When it comes to desktop software, they tend to provide a lot more variety. A lot of YouTube video converters are only provided in a downloadable desktop version. They reason for this is the fact that no separate rendering server is required as all the heavy lifting is done with your PC's own processor which is always a lot more powerful than anything running on a web server.
A desktop YouTube video converter often allows for a lot more variety in conversion options. Due to being able to use your own processing power, you can convert videos to 4K and even 8K resolutions as long as the source provides it. A desktop app is also more likely to provide fast and effective bulk processing in order to convert a full playlist with a single address.
The new YouTube download update has restricted a lot of features in most download platforms, so we listed the best and updated YouTube download platforms below.
---
Top 5 Desktop YouTube downloaders
There are tons of options when it comes to free YouTube video conversions using desktop software. We listed the absolute best options for this year down below.
---
4K Video Downloader
4K Video Downloader is probably the most well known software for downloading YouTube videos.
Although the app comes with a Free and a Premium version, you can access all of the basic most important features without paying a dime.
This software checks pretty much every point we mentioned in the features to look for list above. You can download YouTube videos in 60FPS and in every resolution, all the way up to 8K Ultra High Definition.
Alongside high definition MKV video formats, you can also convert the videos to MP3 files if you're just looking to make a music library.
You can also download entire playlists at once with 4K Video Downloader. This makes the workflow a lot more efficient. Alongside the videos, you can even download subtitles, if the uploader has made them available.
Another unique feature is the ability to use proxies. This allows you to download videos even if they're blocked within your country or region. This feature is not available in most other converters.
Another unique feature is the possibility to download videos in 3D and 360° formats which are definitely not available from other developers.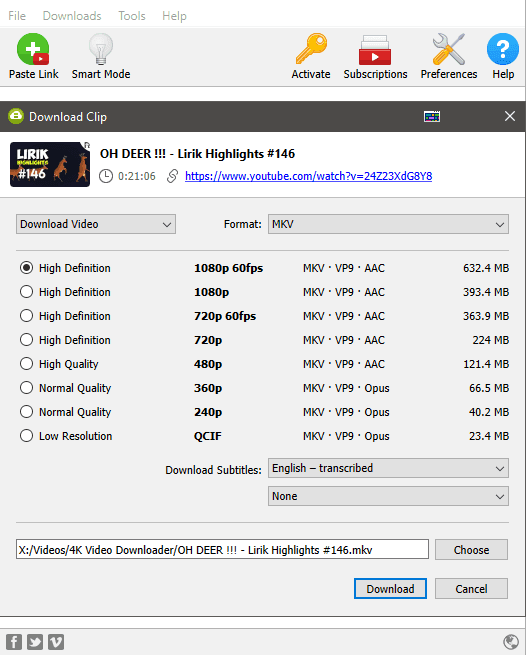 Alongisde YouTube, you can also download videos from all the other top media sharing sites. These sites include Vimeo, SoundCloud, Facebook, DailyMotion and YouTube Gaming.
Although you can use all these core features of this YouTube downloader to save videos, there are some limits. The free version contains some non-intrusive ads as well as certain download limits.
The Premium version costs around $15 for a lifetime license for 3 machines. It allows for unlimited playlist, channel, and subtitle downloads.
It also comes with a channel subscription feature which allows you to automatically download new videos from any channel of your choosing. Alongside that, all future updates come free of charge.
If you are looking to use these features often and for a long time, we highly recommend pitching in this small price. It will help the developers keep the high quality software up and running as well as add more features.
---
WinX YouTube Downloader
The WinX YouTube Downloader is one of the best options to download a YouTube video.
This YouTube video downloader provides many of the same features as the other products listed here. One of the best features of the WinX YouTube downloader is the ability to batch download up to 300 videos simultaneously.
The app also supports the download of playlist and channels through a single link. This alongside the ability to record live streams, makes this video downloader jump up to a league of its own.
The WinX app allows you to download videos from over 300 different sites including TikTok and Facebook.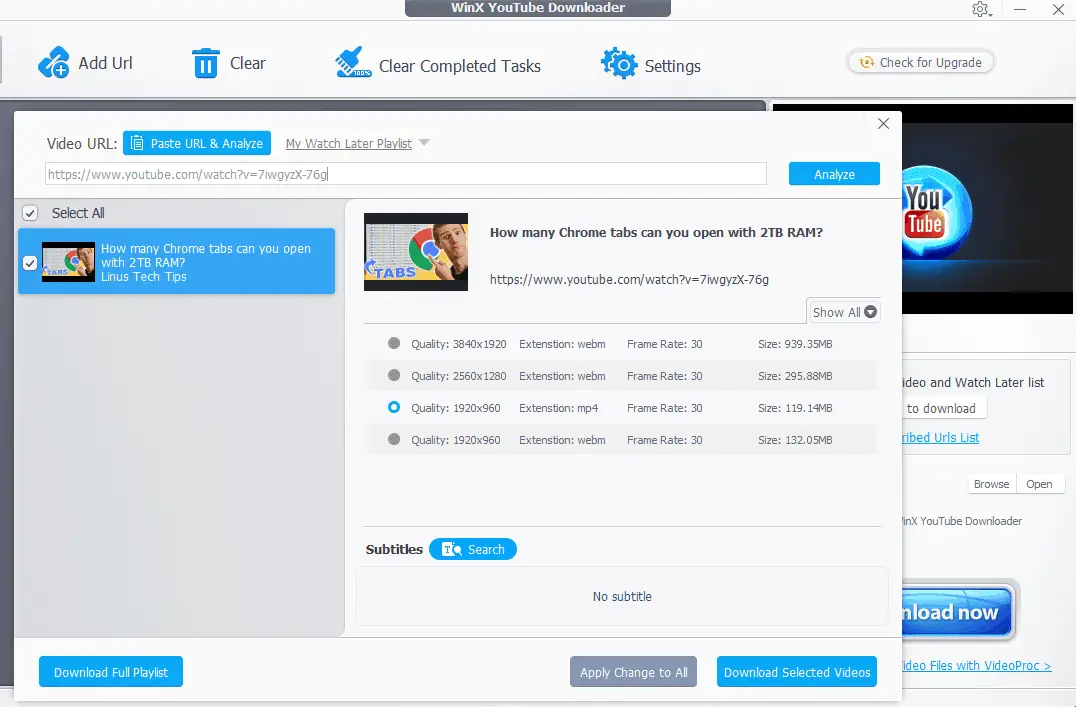 The software also allows you to download 4K and 8K quality videos as well as conversions to plain MP3 audio files. In fact, you can choose a custom resolution to convert the videos in, so you can play them on any native screen size of your choosing.
The app even has the ability to take snapshots of videos with a single click, to save some funny moments and memes to share online.
The official website for WinXDVD looks a little bit low budget and shady, but it doesn't take anything away from the quality of this top notch free YouTube video downloader.
---
Gihosoft TubeGet
Gihosofts YouTube downloader called TubeGet is another very high quality alternative to download your videos with. The software is very clean and sleek, but has a lot more limitations between the free and paid versions of the app in comparison to the others.
The free version of Gihosoft TubeGet allows you to download YouTube videos in any quality all the way up to 8K resolution.
You can also download videos from any media sharing websites like Twitter or Vimeo and the list exceeds over 1,000+ websites.
You can also download playlists and full channels using TubeGet. But here come the limitations that you can only bypass by paying $29.99 for the personal edition lifetime license.
The free version of TubeGet limits you to only 5 downloads per day as well as limited playlist downloads. Alongside the very limited download quantities, the free version also limits your maximum download speed to only 1 Mbps which is fairly slow.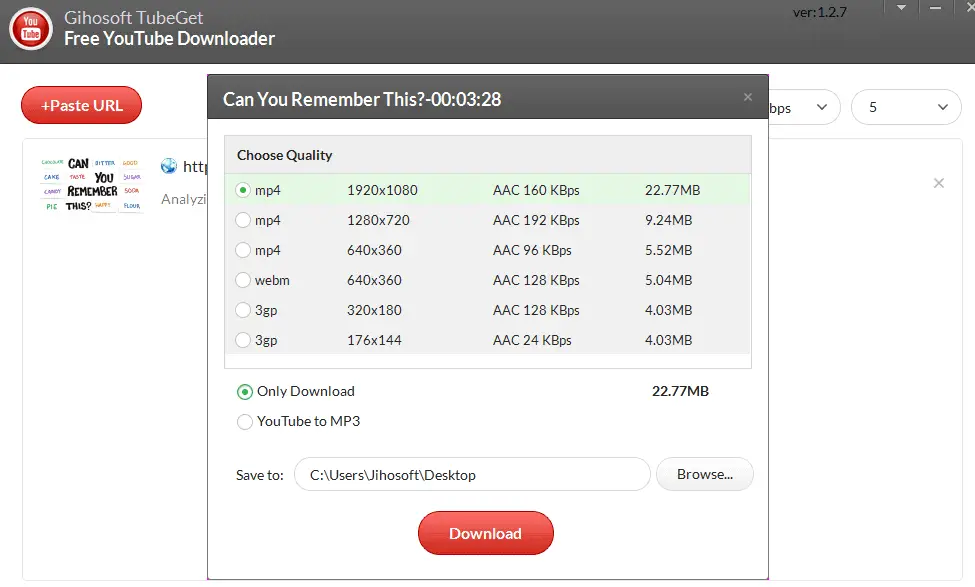 Another pro-only feature that might be a deal-breaker for many, is that you can't convert videos to MP3 or M4A audio files with the free edition. Alongside that con, you can only download and add subtitles with the pro version.
If you are looking for a free YouTube video downloader, this is a great alternative, but you might want to look at the other alternatives seriously as they don't have so many limitations.
---
5KPlayer
The 5KPlayer is a unique YouTube downloader. Not only does it allow you to download any videos from multiple sites, it also acts as a full media player and library.
If you're looking for an all-in-one media library solution, you might want to give this one a shot.
The 5KPlayer is developed by the same company who made the WinX YouTube Downloader. The player comes with built-in AirPlay and screen mirroring technology alongside DLNA so you can play your downloaded videos on your TV with ease.
The 5KPlayer allows you to download up to 4K videos from YouTube, but playing them on their own player requires some form of paid audio or video codecs.
This is why it might not be the optimal solution to actually play your videos. When it comes to music, it is a much more convenient solution.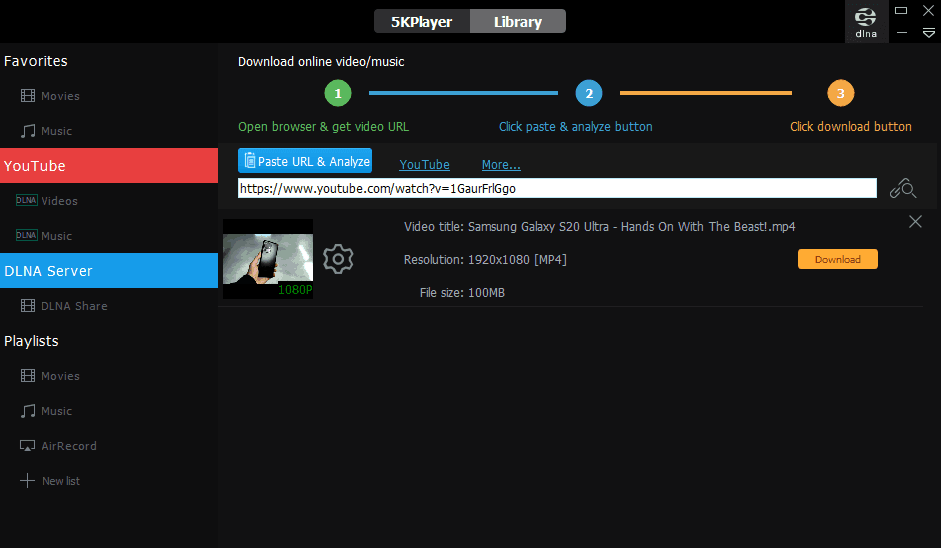 You can save videos in any audio formats including MP3 and FLAC for high quality audio. The player even has built-in online radio if you want to hear some curated playlists instead.
The best part about the 5KPlayer is that it's completely free and provides no paid premium version. They way they look to get paid is to ask for payment for video codecs if you wish to playback higher quality videos using their app.
---
YouTube Downloader
YouTube Downloader (formerly known as Free YouTube Downloader) is the most light-weight and fast desktop solution for downloading YouTube videos for free.
The free version of this app gives fast and easy access to the most important features you will need. You can download as many videos as you wish with up to 1080p 60FPS quality. This is as high as most people every need to go anyway.
You can also download and convert unlimited videos into MP3 format at 128 Kbps bitrate. This is more than enough for most users as well.
This accompanied with a built-in video search functionality makes the YouTube Downloader one of the best free alternatives as your primary downloading software.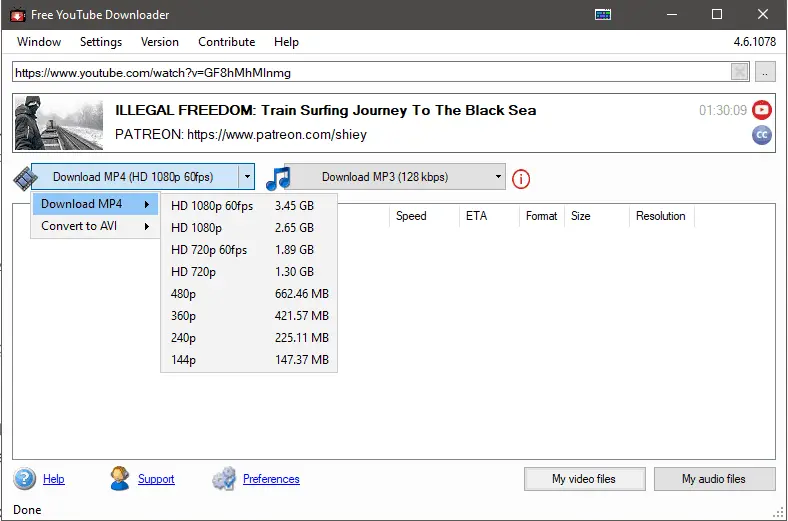 The premium version of this app costs around 15 dollars a year and adds a few crucial features to make your life easier.
These include downloading 4K and 8K resolutions as well as up to 192 Kbps bitrate audio files.
Another key feature of the premium version is the ability to download playlists and channels without any limits. You can even download live streams directly through YouTube.
---
Top 5 online converters to download YouTube videos
The other end of the spectrum from using downloadable desktop software are the various online video converters. They don't require you to download any separate applications in order to save videos from YouTube.
They're preferred by many, but leave you at the mercy of your web browser and processing power of a server. They can often be slower than desktop alternatives that harness the processing power of your personal computer.
---
TubeNinja
TubeNinja is definitely one of our favorite online video conversion platforms if you want to download YouTube videos. It's completely free and fast. You can download any YouTube video quickly in MP4 video format as well as MP3 audio format.
The best part about this site is a so-called quick URL downloading trick. It works by adding "dl" in front of a URL, which in turn starts to instantly convert the video into a downloadable format.
This trick works for tons of different sites, not only YouTube. This includes sites like SoundCloud and Vimeo as well as tons of adult websites. (Adult websites are a big reason why this tool has reached such huge popularity.)
An example of a quick-download URL for a YouTube video would be dlyoutube.com/watch?v=zJ0hC0QoCxc which is a normal video address with a simple "dl" in front of it.
Obviously the site also supports simply pasting the URL on to their homepage, which works just the same. The only downside of TubeNinja is that it doesn't support high quality video conversions.
This means if you're looking to download Full HD or Ultra High Definition videos, you need to opt for the other alternatives.
---
YouTubeMonkey
YouTubeMonkey is a very lightweight and simple free YouTube video downloader platform. All you need to do is paste a link and start the download.
The best part about YouTubeMonkey is that it supports all qualities, even 8K Ultra High Definition videos. You can also download YouTube videos in 60FPS with YouTubeMonkey.
Once the videos has been converted, you get a long list of all possible formats and sizes. Weirdly enough the audio file formats are limited to MP4 and WebM formats. There is no MP3 available.
The app is completely free, supported only by a few ads on the main page, which is completely reasonable for such a quality tool.
YouTubeMonkey also has a similar URL trick to TubeNinja. All you need to download any video instantly from YouTube is add the word "monkey" after "youtube" in the URL. The address should look like the following youtubemonkey.com/watch?v=zJ0hC0QoCxc.
As a side note, the site only supports YouTube videos, so if you're looking to download videos from other sites as well, you should opt for a different platform.
---
Y2mate
Y2mate is one of the most versatile online converters out there. Similarly to the previous options, it also supports fast downloads by simply pasting a URL into the search box.
The app allows you to download videos in 1080p HD quality but there is no support for 4K or 8K formats. Unlike YouTubeMonkey, this platforms has tons of options for audio formats as well.
This ranges from MP3's to WebM formats and bit rates varying from 64 kbps all the way up to 160 kbps.
This platform is also completely free with no pushing of premium versions or paywalls.
Another great thing is that the conversion only happens once you choose the format to download, so you don't need to wait around beforehand.
Similarly to the previous platforms, Y2mate also provides a possibility for URL based quick-downloads. All you need to do is add "pp" after "youtube" in the video URL, very similar to the YouTubeMonkey method.
---
SaveFrom.Net
SaveFrom.net is another great free YouTube video downloader. It allows fast downloading through the pasting of a single link as well as the URL methods mentioned above. In this case, you need to add "ss" in front of the YouTube URL.
The biggest downside of SaveFrom.net is the fact that it only allows normal downloads of 720p quality and below. If you wish to download higher quality formats, they are only available without sound.
There is also no possibility to download MP3 formats through this app, which is a shame.
This service also allows downloading from services like TikTok and Facebook, so it is a viable solution for many users.
The main benefit of SaveFrom.net which makes it stand out from the rest is the browser extension. It allows for 1-click downloads right from the video pages. This makes it extremely convenient without the need to paste any links or remember URL shortcuts.
---
YTB MP3
This website is only used for converting YouTube videos and playlists into MP3 files for free. The reason we decided to add YTB MP3 to the list, is because it's very simple to use and has great support for downloading full playlists from YouTube.
The website itself is a little rough around the edges, but does its job fast and efficiently. When you enter in a YouTube playlist URL, you get a full list of download links for all the songs in the list. They do have a browser extension as well, but we haven't had time to test it out, so use it at your own risk.
There is not much else to say about this site. It's free and fast, a perfect tool for filling up your music library. As stated before, it doesn't allow conversions to video formats, so it's purely for audio purposes.
We recommend giving YTB MP3 a shot, it might just be a positive surprise.
---
Best browser extensions to save YouTube videos
Browser extensions are becoming the new norm when it comes to downloading YouTube videos. Surprisingly many people are not taking advantage of them, as they can seem a bit daunting at first.
By using an extension, you no longer need to paste any video URLs or look for a website to download from. All you need to do is click a button and you're done.
The problem with extensions is the new YouTube update that arrived in early 2020. Nowadays YouTube streams audio and video separately on different tracks for high quality videos, so it's not as simple as it used to be. This is why a lot of tools and extensions no longer work properly.
---
You can't download YouTube videos with Extensions on Chrome
Sadly, it is no longer possible to download YouTube videos using native Chrome Extensions. This is due to Google owning both Chrome and YouTube. They don't want users to download videos without ads, so they now remove any plugin and extension from their store with this functionality.
This limitation applies to all other Chromium based browsers that use the Chrome Web Store.
The only way to get around this and take advantage of downloading YouTube videos for free using extensions, is by installing a different browser like Mozilla Firefox or Microsoft Edge.
---
Easy Youtube Video Downloader Express
This is one of our favorite free YouTube video downloader extensions. This extension is one of the most popular ones available in the Firefox addon library.
This extension adds a small green button next to the Subscribe button on every video allowing for fast downloads. Once clicked, the button opens up a menu with the various possible file formats.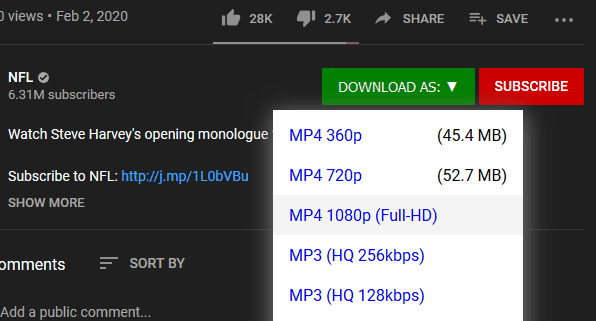 Once you've chosen a file format to download, the download dialogue should start almost instantly. When it comes to free YouTube video downloader extensions, this is probably the only one that doesn't require any sort of additional app to be installed on your PC.
The downside of the Easy YouTube Video Downloader Express (aside from the long name) is that you can only download Full HD 1080p videos and MP3 audio files if you purchase the premium version.
Although, the tool has a neat free little feature, that if a premium user has downloaded the video you are watching within the last 24 hours, you can download it in full quality for free. This is due to the fact that the converted file can still be found from their web server cache.
---
Video DownloadHelper
Video DownloadHelper is an amazing yet simple extension. You can use it to download any embedded videos from any website for free, including YouTube.
The extension adds a little button at the top right of your browser and when you click it, you see a full list of all downloadable media on the current page.
You can even use a shortcut by right-clicking anywhere on the page and selecting the VDH menu from the list.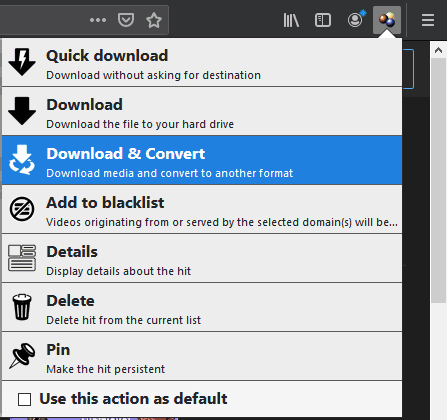 The extension can not only download videos but it can also convert them into any format of your choosing. There is a variety of other options to modify as well.
The main downside of this extension is that it requires a separate "companion app", as they call it, to be installed on your PC.
Although this companion app is lightweight and allows for the conversions to be done using your machines processing power, it is not very convenient to get started.
---
Free YouTube Video Download
This is also a very clean looking free extension to download YouTube videos with. As with almost all extensions, this one also requires a separate light-weight desktop installation to handle the processing.
The Free YouTube Video Download extension also adds a small button next to the Subscribe button. From there, a menu with file format options pops up.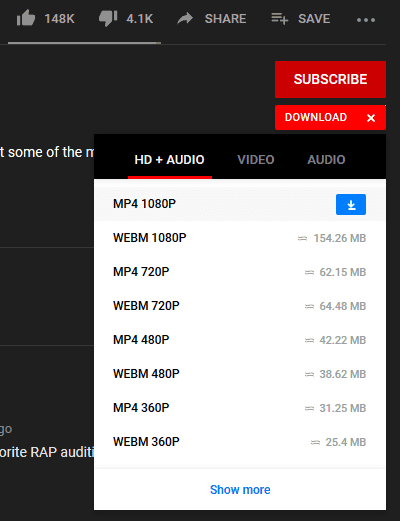 Once you install the add-on software, you can download any quality formats you wish.
The way the tool works is by downloading the video and audio separately. Most modern media players and devices are able to play these files in unison.
---
How to download YouTube videos for free on Android
More than half of all web traffic comes from mobile devices. It used to be very easy to download those videos using various apps from the PlayStore.
Now due to Google basically owning Android and YouTube, times have changed for the worse.
---
You can NOT download YouTube videos with PlayStore apps
It is no longer possible to download YouTube videos with any apps from the Official PlayStore. This is due to updated YouTube and Google Play Store terms of service.
Google now bans any app from their store if it has the ability to download YouTube videos. This is the same reason why downloading YouTube videos for free using browser extensions is so complicated now.
Thankfully, all hope is not lost. The easiest way to download YouTube videos on android devices is by purchasing YouTube Premium. Once activated, you get a download button next to every video, allowing you to instantly download any video.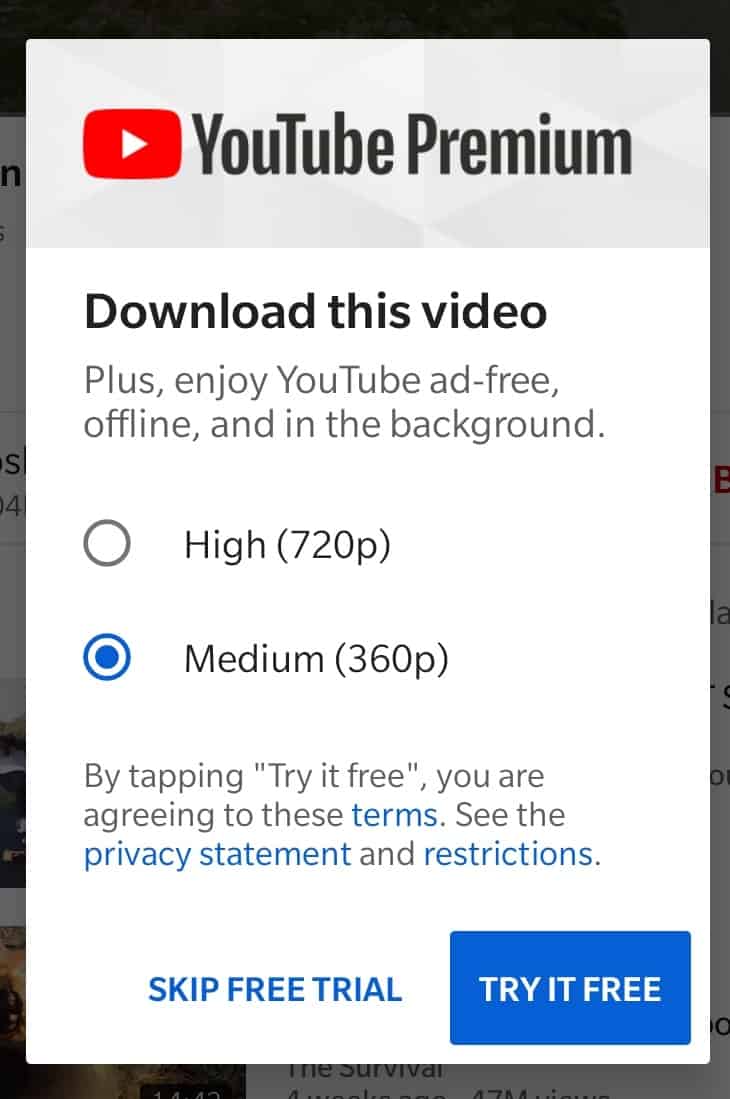 Obviously, YouTube Premium costs a monthly fee, so it is not an optimal solution. However, there is another way to download YouTube videos for free on android devices.
What you need to do, is download apps that are not available in the official Play Store. These come in the form of .APK files and are usually available to download for free from the internet.
---
Best free unofficial Android apps to download YouTube videos
All of the apps listed here are not officially supported by Google, so you must exercise caution when downloading and installing them. These apps provide all kinds of cool features that you can't find on official apps.
---
YMusic
The main reason we listed YMusic first on the list, is because we have the most experience with it and have been using it for years. We even made an in-depth guide on it's features and a tutorial on how to install YMusic on Android.
What makes YMusic unique, is how it's designed around listening to music. As you might infer from the name, it's main function is to listen to YouTube videos and playlists.
This app completely skips the official YouTube app and has all the features like searching built-in.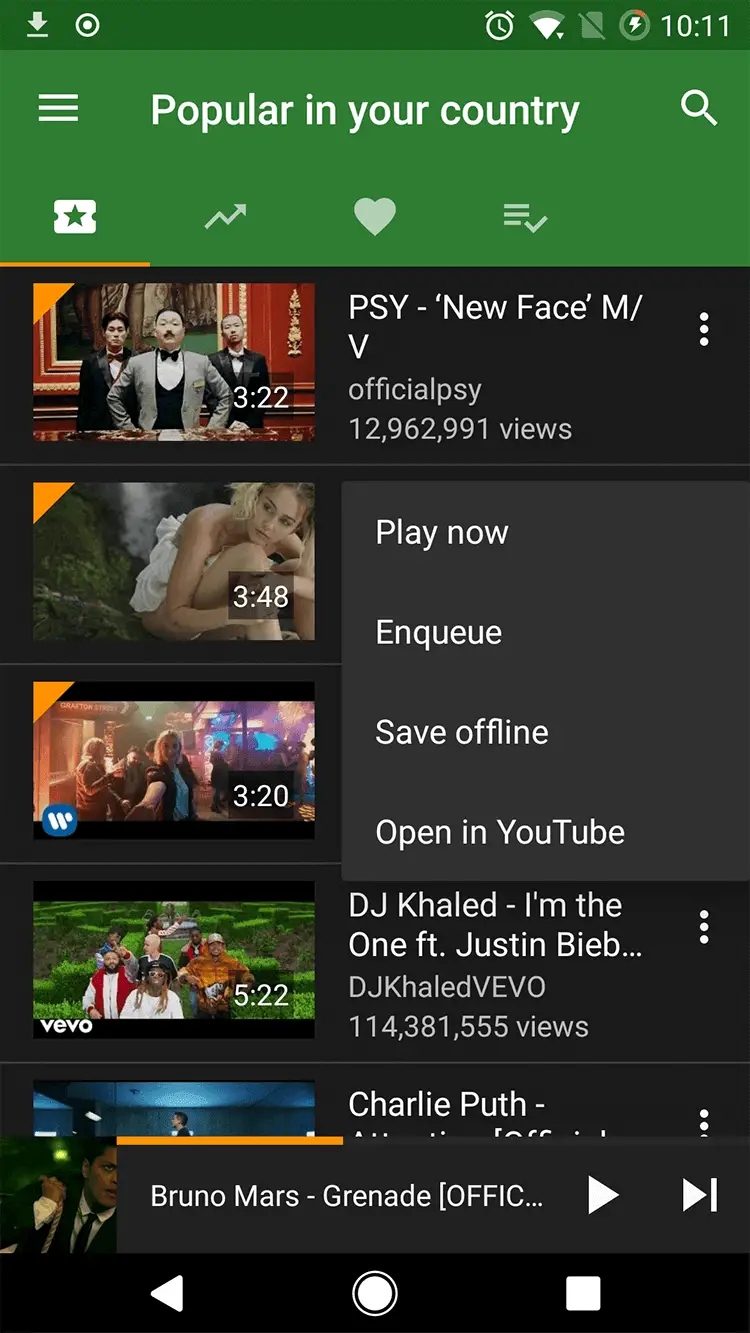 YMusic allows you to listen to any videos without any ads and you can keep the app minimized while listening.
Playlists and libraries work perfectly, as they would in the normal YouTube app.
This app is especially awesome for people who have a limited data plan, as you won't need to stream video to hear songs.
This can obviously be considered a downside as well, since you can't stream the videos even if you wanted to.
You can also download any videos in tons of different audio formats including MP3 with a simple tap.
Similarly, you can download any videos in all video formats as well, which is the only way to actually see the visuals of the videos.
---
Videoder
Videoder is one of the most popular free android apps to download YouTube videos for free. The app is very simple to download and install while giving you tons of cool features.
Videoder is basically a standalone YouTube app allowing you to browse, watch and comment on videos like you normally would.
Unlike YMusic, you can watch videos of any quality, as well as download them in a single tap of a button.
The best part of this app is the amount of download options you get for a video.
You can download anything in Full HD quality with no issues and fast download speeds. You also get tons of options to convert videos into any audio format of your choosing.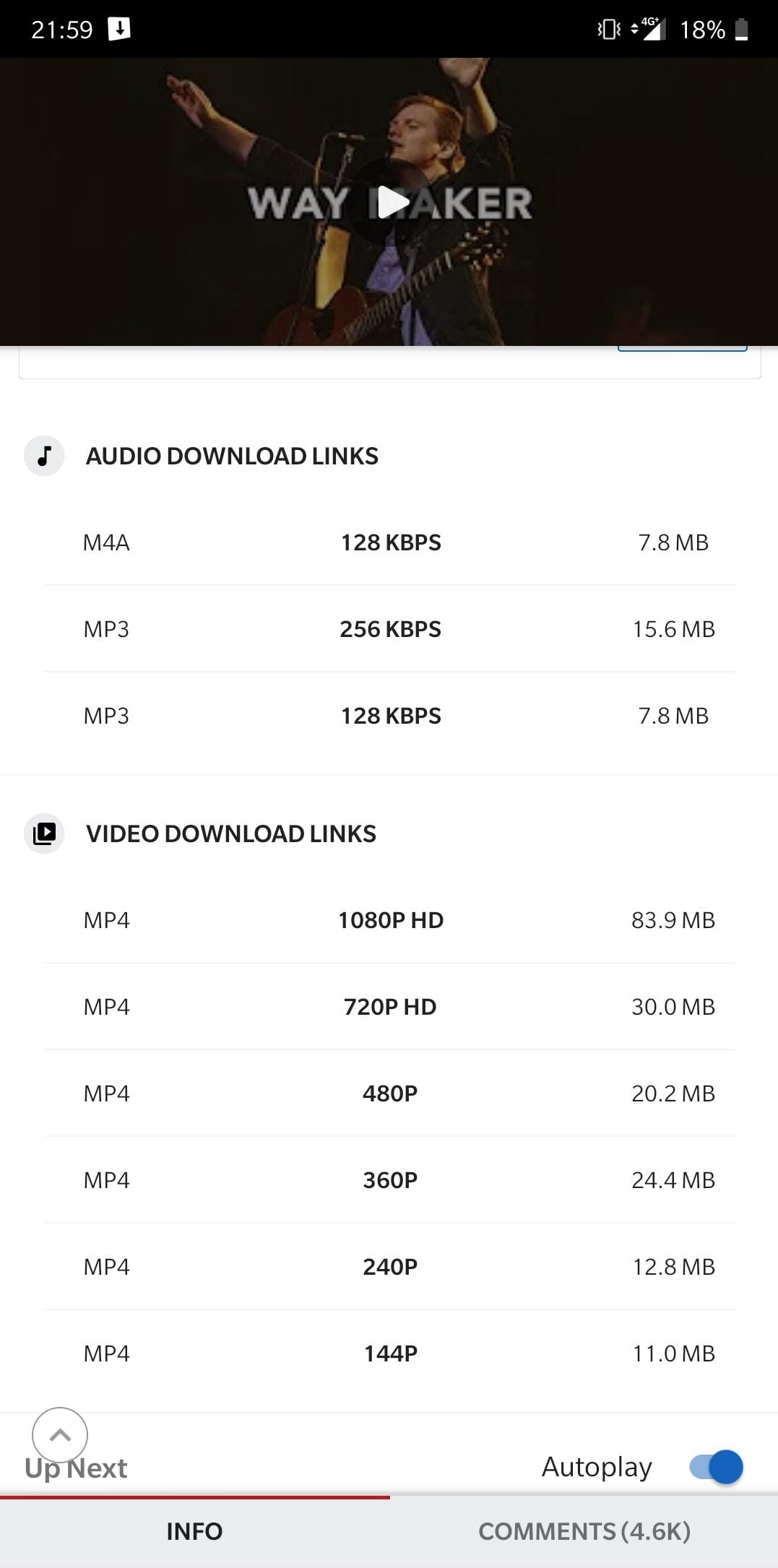 Another great feature of Videoder is that it is not only limited to YouTube. You can also use it to download videos from TikTok and sites like Facebook and SoundCloud.
Really the only downside of Videoder is that they show ads on the app itself. They're not intrusive and not shown on the actual videos.
You can choose to pay around 2 dollars to remove all ads, which is a lot cheaper than most free apps of this nature.
---
TubeMate
TubeMate is probably the most well known app of the bunch. It has been around for a long time and trusted by many. The app utilizes the web version of the YouTube site while overlaying it's own options on top of it.
Similar to Videoder, TubeMate also allows you to download any videos in any quality as well as download audio versions of your choosing. The app is quick to install and works even without logging into your YouTube account.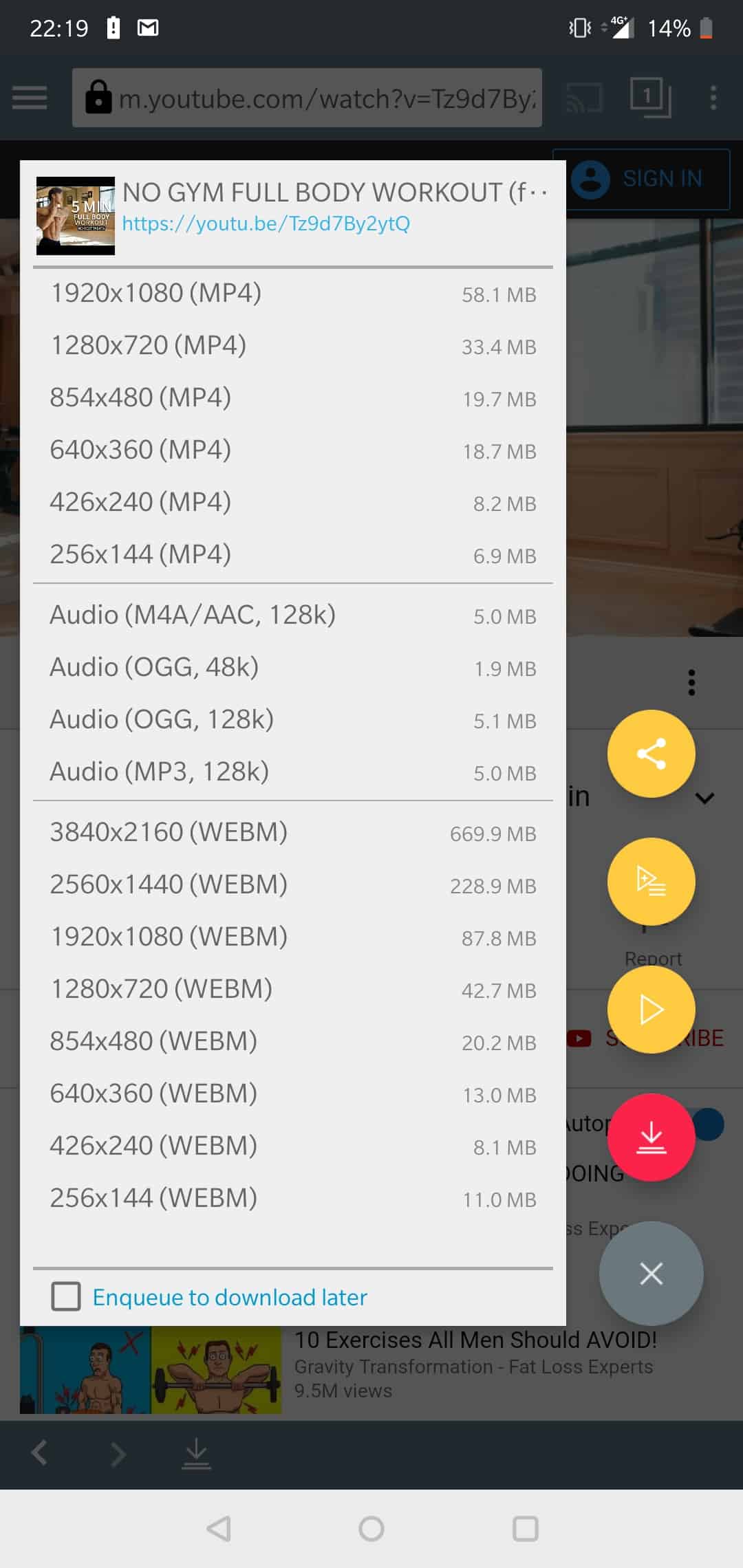 The main issue with TubeMate is that it requires you to grant a lot of permissions for all the features to work properly.
This includes ability to make phone calls, in order to pause the music if you're getting a call. The app also needs location data for regional videos as well as file management permissions to save the videos on your device.
These excessive permission requirements might be a deal breaker for some users, but the features they grant are worth the trouble.
The user-interface is the closest you're going to get to the normal YouTube app, which is the main reason why this app is so popular.
You can use YouTube as you normally would, but a small download button is added towards the bottom of your screen to download a video. By tapping it, you get a popup window with all the conversion options.
---
How to install free YouTube Video downloader APK files on Android
If you decided to go with one of the free unofficial android apps to download YouTube videos for free, you need to know how to download install them.
In order to install an app from an APK file on your android device, you need to allow the installation of unknown apps.
This setting can always be found from your phones Settings but the location varies between devices and android OS versions.
---
Allowing installation from unknown sources on Android
At the time of writing this guide, the newest version of android is OxygenOS Version 10.3.1.
In order to allow the installation of unofficial apps, first navigate to your 'Settings'.
Once you get there, look for the 'Apps & Notifications' menu and open it up.
You should now see a bunch of data about your apps and their permissions. Tap on the 'Special App Access' option at the very bottom.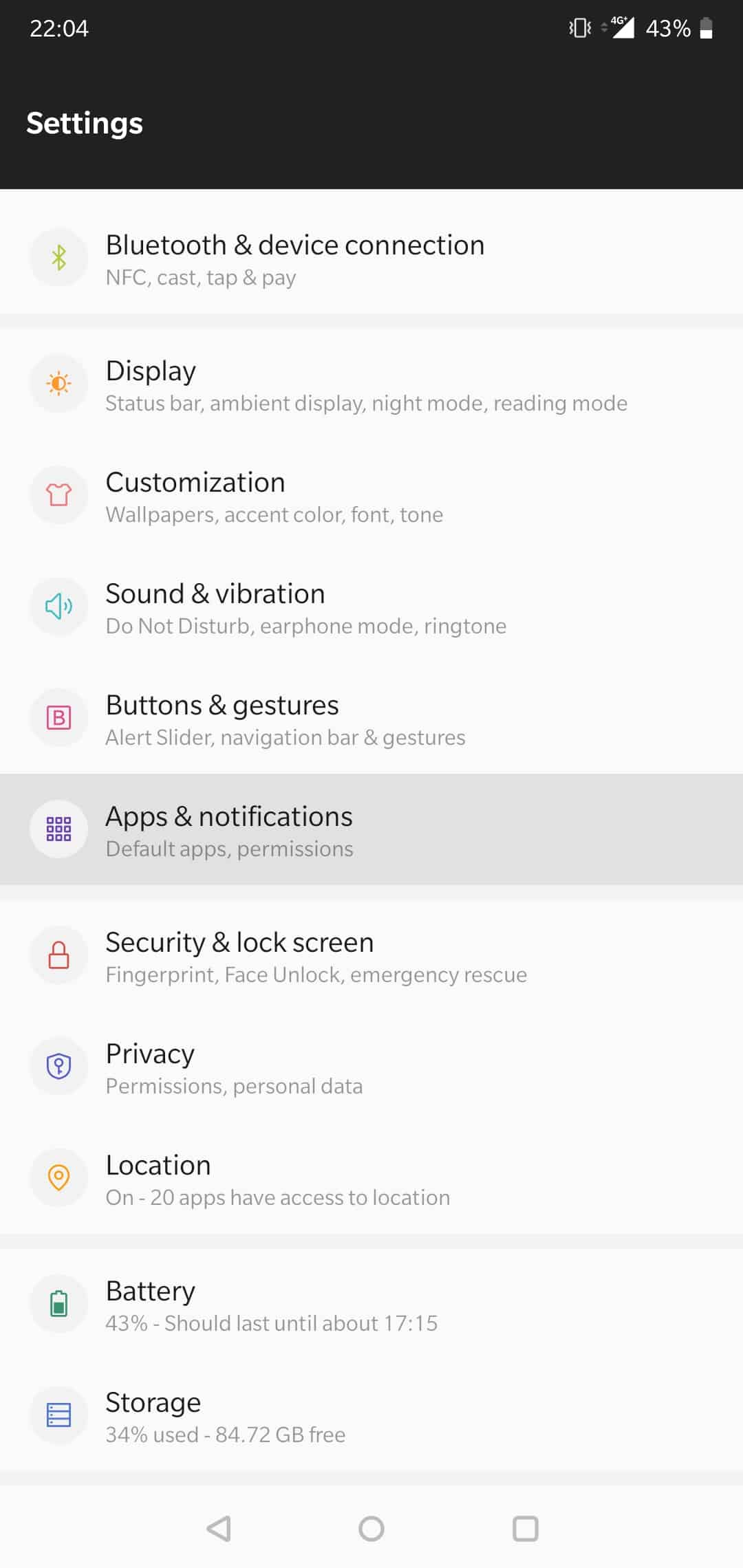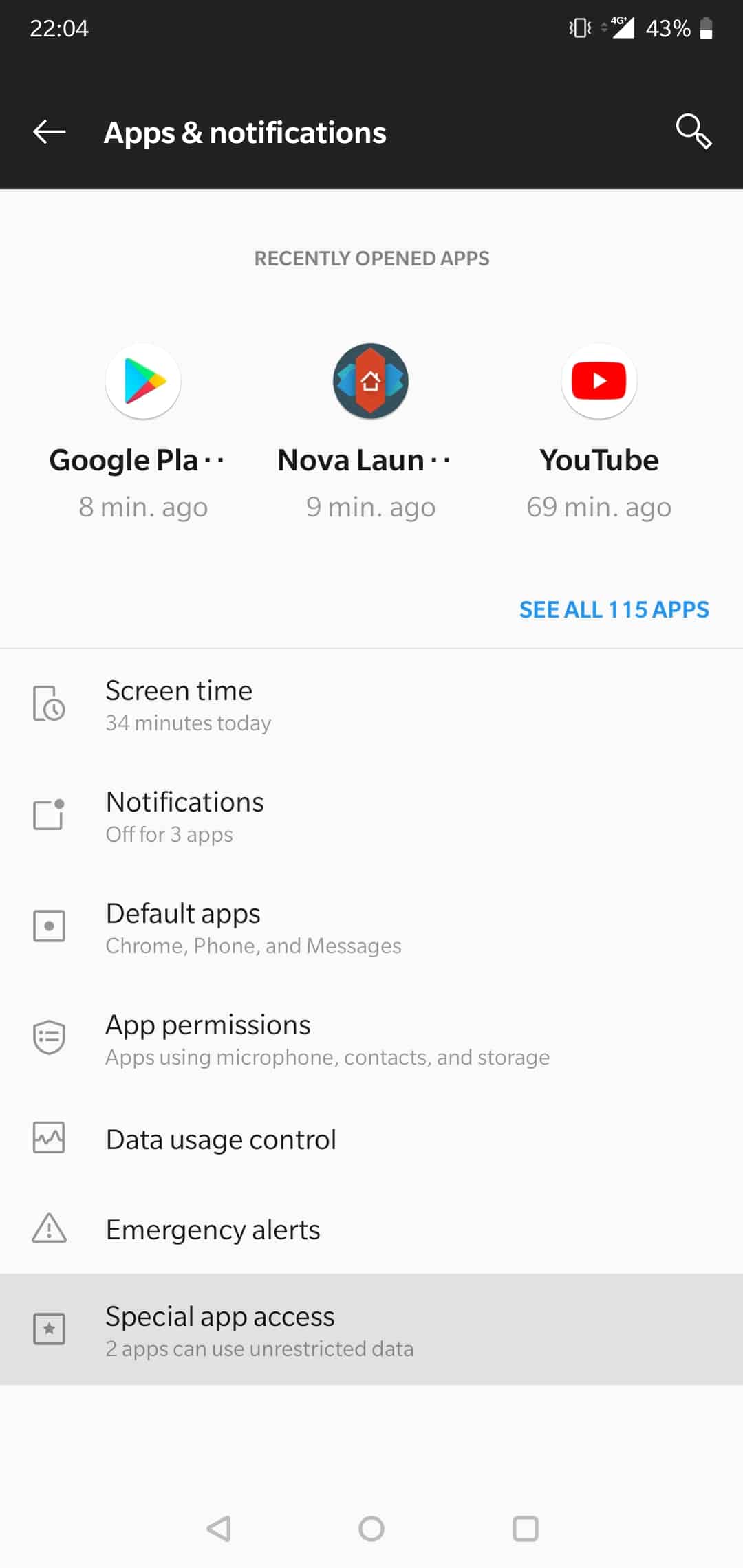 Next up, you should see a long list of different types of permissions. Due to the new android operating system, you need to separately allow every app to be allowed to install APK files.
In the permission list, look for the one labelled 'Install unknown apps' and select it.
You should now see a list of all of your apps that have the ability to install custom APK files on your devices.
Look for your web browser, for example Chrome, and select it.
Now all you need to do is toggle the switch labelled 'Allow from this source'. You should now be able to download APK files with that browser and install them directly from it by tapping on your downloaded file.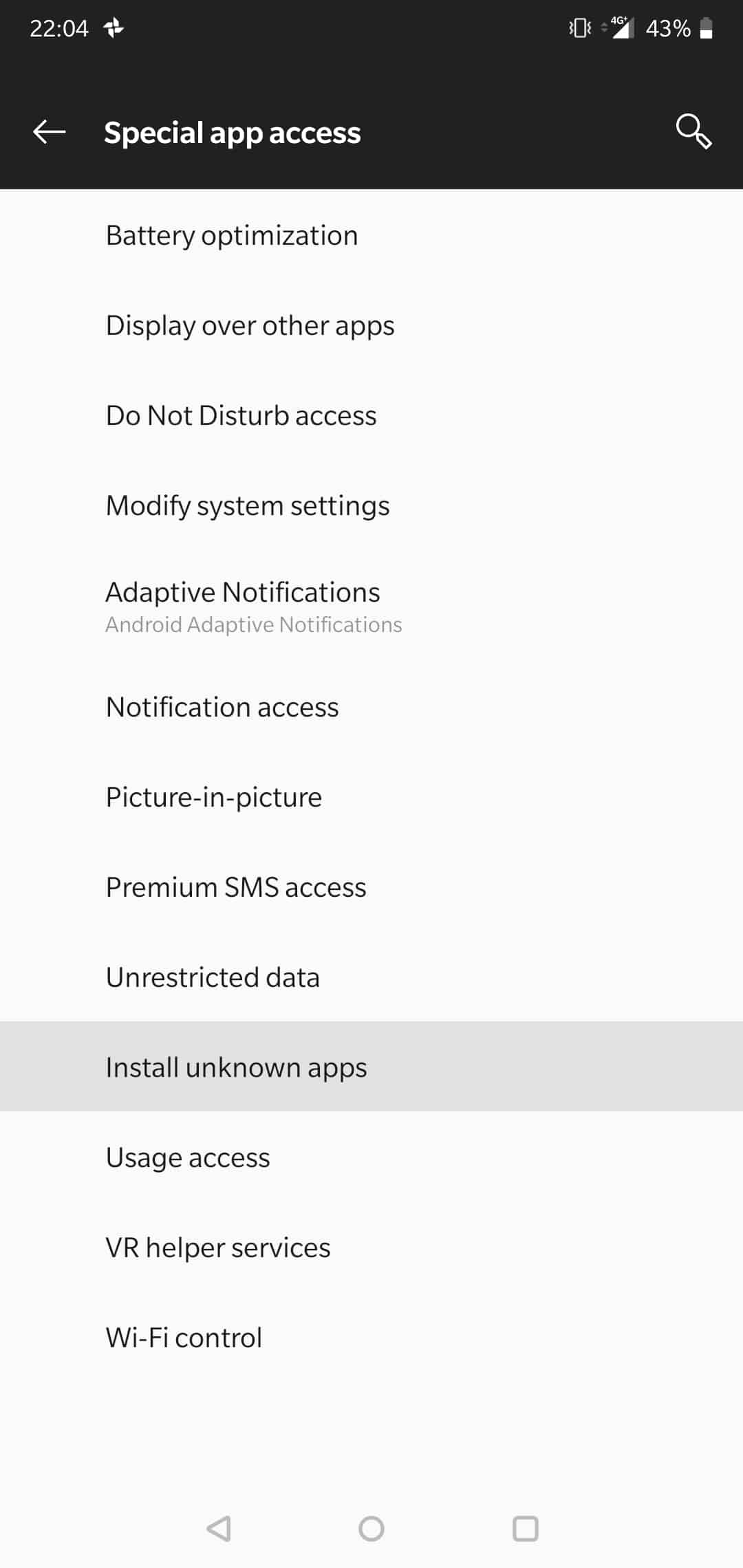 ---
Allow installing from unknown sources on other Android versions
The goal should be the same, but the location within your Settings menu will differ between operating system versions.
The path to allowing the installations should also start by going to 'Settings'.
Then look for the 'Security' tab and open it up.
Then just look for 'Device Administration' and toggle 'Unkown Sources' from OFF to ON.
If you can not find the way to enable the installations for your android version, check out this great post by ExpressVPN.
---
Install the APK file and launch the app
Now you should be ready to download your app APK and install it.
First open up the web browser on which you enabled the Unknown Source installations.
Next, open up the download page to any of the unofficial free YouTube video downloader apps from this guide or Google for another one.
Once you find the download link you're looking for, go ahead and download the file. Once the download is finished, all you need to do is tap on the finished file to start the installation process.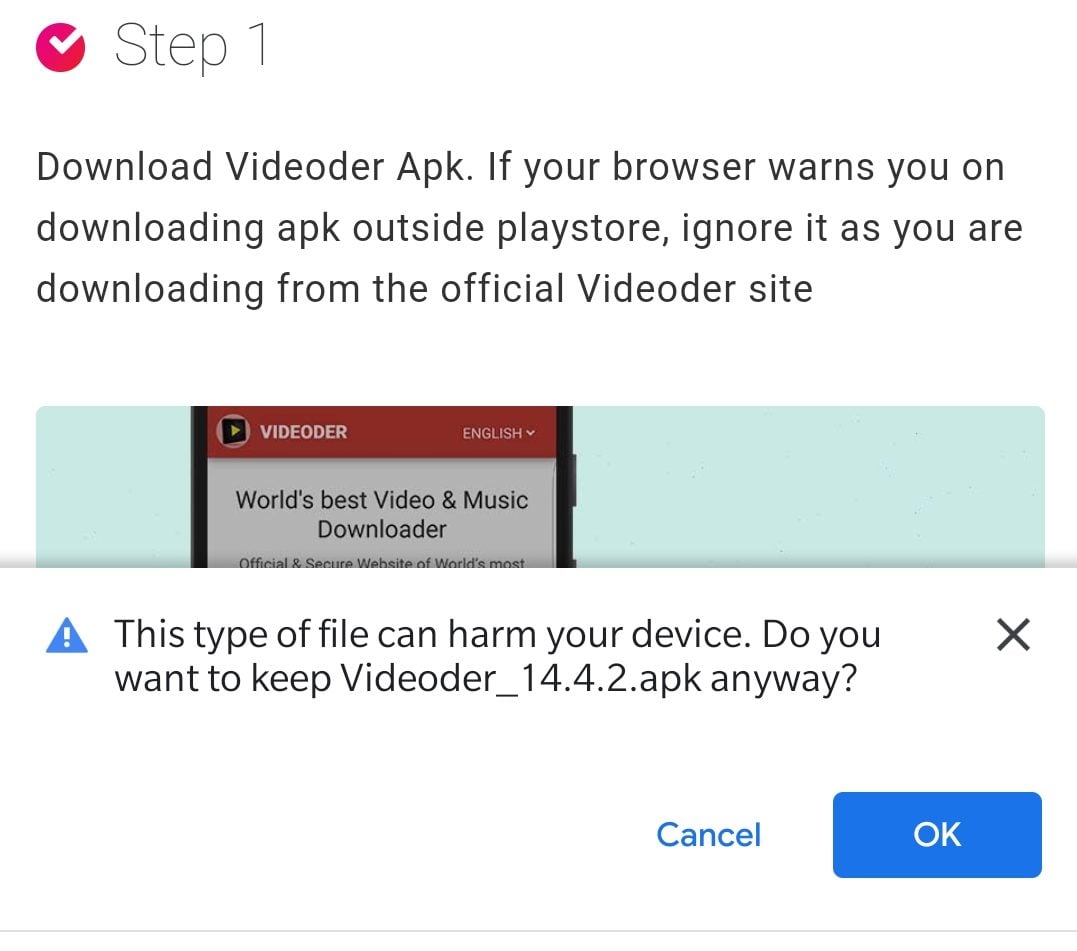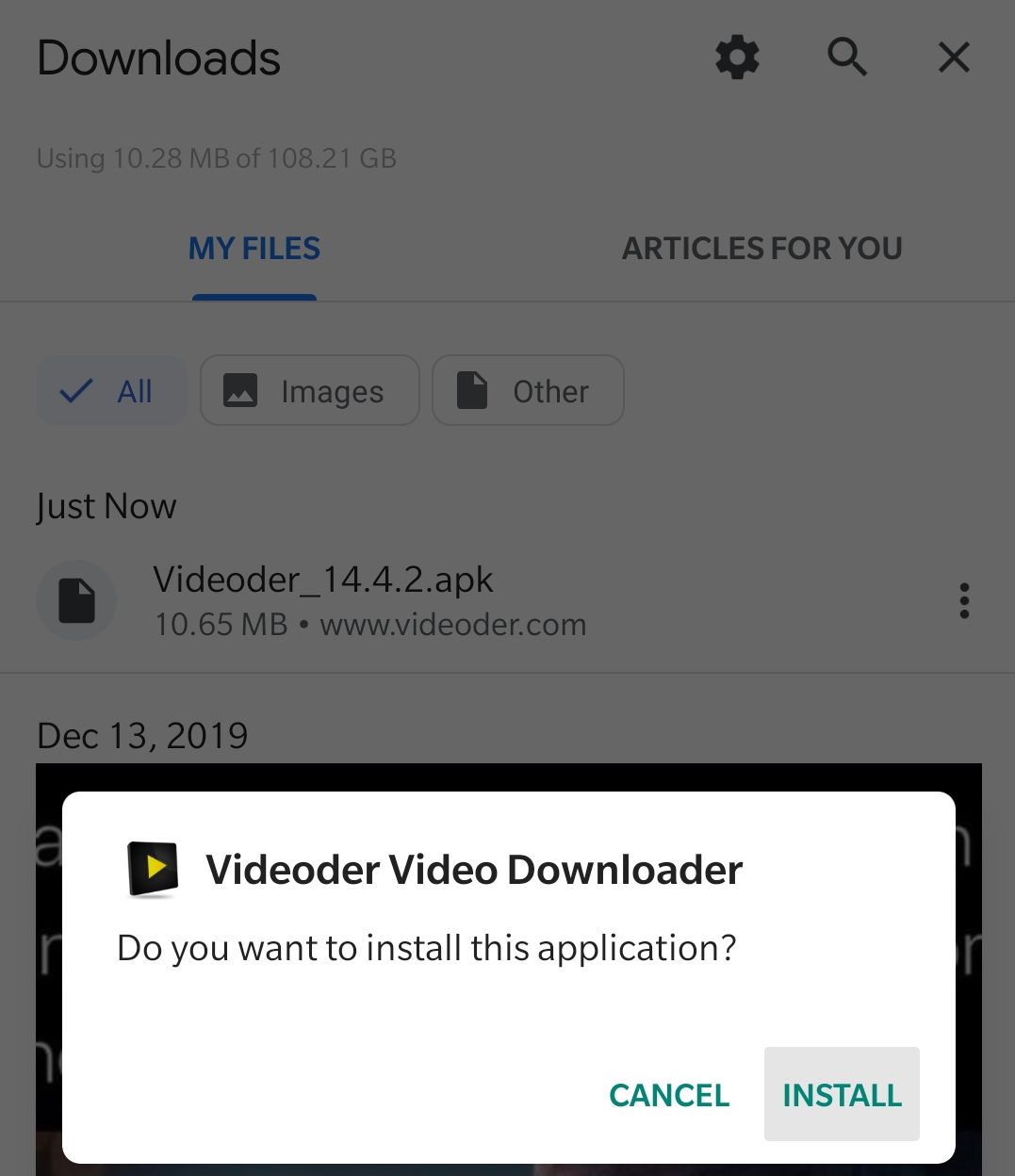 If you can't find the file, open up your App Drawer by swiping up from the bottom of your screen and look for the File Manager app. You should be able to find and install your downloaded APK file from there.
If everything went according to plan, you should now find your fresh app in your app drawer.